Original plan was to extubate yesterday.
Revised plan was to extubate this morning around 8 to 9.
Rerevised plan was to extubate around 11 to 12ish.
ReReRevised plan is to MAYBE extubate later today, but if not, hopefully tomorrow.
ReReReRevised plan is definately not today, hopefully in the morning.
Goal: Extubate and NOT HAVE TO REINTUBATE (as is Annabelle's history!)
We've had a few concerns with some pressures in her heart that were high, but they came down a little, so that was good. Biggest problem now is fluid balance. They put her catheter back in (they'd pulled it yesterday) and started her on a lasix drip as well as back on Diaryl to get fluid off of her.
She has done a few CPAP trials, failed a few, passed a few. Letting her rest and will start some tonight and do them every 4 hours during the night. As long as she passes them, we'll extubate in the morning.
She's starting to wake up a little more (and not look like she wants to strangle us…) so this is a good thing! She has had a string of nurse visitors saying "OH MY GOSH SHE GOT HER HEART!" which is fun! She has a big sign on her door for everyone to sign as a keepsake! Will post a pic of it later!
Miracles:
Had a comment on a previous post that I thought important to address.


"While it is amazing and wonderful that organ transplants are available to add a silver lining to a tragic situation, I think it is somewhat disrespectful to call this a miracle. God allowed another innocent and beloved infant to die. Your child was able to be saved as a result, but God still allowed that other child to die. I doubt the parents of that other baby think that this was a miracle.
Regardless, I certainly pray for the best outcome in a less than ideal situation."
While I don't agree with the sentiment completely, I understand it.
Personally, I don't believe calling it a miracle that Annabelle has a new heart disrespectful. If a donor family feels that way, then my heart truly breaks for them because that is NOT NOT NOT my intent.
I don't believe a baby dying is a miracle. It is a part of life, a very sad, sad unfortunate part. It breaks my heart that any baby dies, and I know this because Annabelle has been on the verge many, many times. I've also seen one too many babies in the PICU go home to be with Jesus, including the son of my very good heart-momma friend, and my heart absolutely aches for their parents. Never would I suggest that a baby dying is a miracle, regardless of organ donation status.
But we all have a certain number of days in this world. For some, it's a few hours, for others, they live until they are 100. For most of us, it's somewhere in between.
As a mother of three healthy children, I can honestly say that if one of them were to have an accident and go home to meet their Savior, I would count it as a miracle of God that he's given doctor's wisdom and ability to be able to prolong the life of another child and give hope to their family using the tragedy that we would go through. Would I like it? Nope. Would I rejoice in the death of my child because of it? Of course not.
But I would thank God for causing good to come from bad. I would rejoice that all was not in complete vain.
Life happens. Death happens. Illness happens. It is a reality we all have to face. Some may disagree, but the Bible never says Christians, or innocent children, will be immune from it. Suffering is a part of life, and if we let it, can make us grow stronger.
I won't address this anymore after this, but wanted to make sure I was clear on the point of how thankful I am for the donor families willingness to let life happen from their tragedy. Being the recipient of a donor organ is very humbling, and I will NEVER forget the gift they gave, the choice they made, that changed the course of my daughters life.
Will update again tomorrow… hopefully when she is TUBE FREE!!!!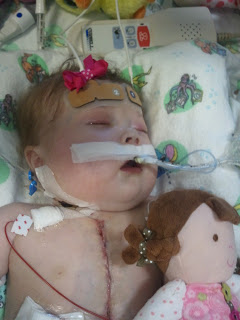 Resting with her dolly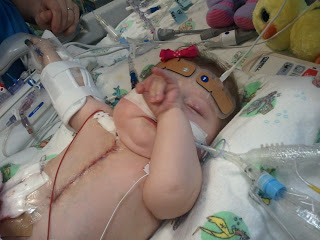 I love this! She keeps rubbing her nose… not sure if it itches or if she's not using there being no nasal canula there!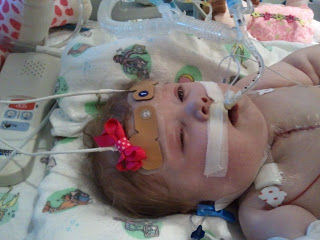 Waking up!!! "Mom… what are these people doing to me?? Where there is a stupid tube down my throat??" Then she just says, "ah, I think I'll back to sleep…" We're playing all the music she likes in her room today too.. I think it's helping! And she kinda held onto one of her toys too, FUN STUFF!