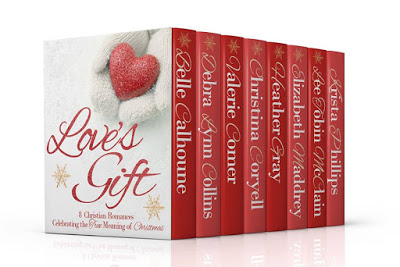 So Excited!!
My newest adventure — I mean, project — I mean, BOOK, is available for PRE-ORDER on Amazon. It will be releasing NEXT TUESDAY, October 13th! One week from today!!
This is my FIRST Christmas book, and I'm SO excited to have teamed up with 7 other romance authors to bring you Love's Gift, a collection of Christmas novellas just in time for the upcoming holiday season!
My novella, A (kinda) Country Christmas set in Gatlinburg, TN is included!! (for those looking for paperback, it will be available as a single title in November!)
More details on Love's Gift!:
Eight Christian romance novellas celebrating the true meaning of Christmas!
Each of these never-before-released inspirational romances
has an uplifting message that will help you relax, forget your worries,
and focus on the real meaning of Christmas: Jesus, God's gift to the world.
Join eight beloved Christian romance writers as they weave tales about all kinds of Christmas romance.
Can you go home again for Christmas? Belle Calhoune's inspirational romance novella says yes, and it's particularly exciting when you find your Mistletoe in Montana.
Debra Lynn Collins wonders if you can actually give someone a man for Christmas… and A Match Made for Christmas is one Christian romance that answers that question!
Valerie Comer introduces us to a disillusioned toy store
clerk and a mall Santa who don't see eye-to-eye on the whole Christmas
season, but that's nothing a few Merry Kisses can't cure.
And Christina Coryell's Unwrapped takes traditional Christmas celebrations to the next level when heroine Trina Miller falls for her best friend's brother.
If you like Christian fiction with hospital settings, Heather Gray's An Informal Christmas will warm your heart as her hero and heroine overcome their differences to help sick kids.
Christmas isn't everyone's favorite time of year. In fact, Christmas
light displays take on a whole new meaning when you hate Christmas! But
the hero of Elizabeth Maddrey's Christian romance novella Operation Mistletoe won't let heroine Victoria Spencer stay a Scrooge for long.
In the Christian romance A Bond for the Holidays, a family almost falls apart when a terrible secret is revealed… but this inspirational novella by Lee Tobin McClain shows how God's love can work a miracle.
Maybe you prefer celebrating Christmas 365 days a year in the Smoky Mountains. In Krista Phillips' inspirational Christmas novella, A (kinda) Country Christmas a woman does just that—until a handsome, world traveler shows up and ruins everything.
Join eight Christian romance writers on a journey that will warm
your heart, deepen your faith, and help you embrace the true gifts of
Christmas.
Let's Chat!!
What's the last Christmas story you read?
Do you read Christmas books ONLY around the holiday or do you read them whenever?