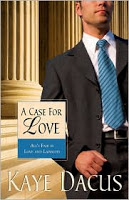 I thought it'd be fun to end this uber romantic month with a few fun romance novel giveaways!
Today's giveaway is a book that's all about lawyers and love, something we normally don't put together.
I read A Case for Love by Kaye Dacus this last week. Actually, to be more precise, I read it in one evening this last week, which is a sure sign of a good book! (That, and I'm too impatient to wait until the next day to finish it!)
You got to know Forbes a wee bit in her previous two contemporary romances, Stand-In Groom and Menu for Romance, but Kaye has a smash hit in the 3rd novel of the Brides of Bonneterre series, showing us that love and law can coexist, and that long-time most eligible bachelor Forbes Guidry can find his happily ever after too.
Discussion: Leave a comment by tomorrow, 2/23/10, 10:00 p.m. CST for a chance to win an autographed copy of A Case for Love! Winner will be randomly picked and announced on Wednesday.
I guess we could also have a rousing conversation all about lawyers. Maybe a few good lawyer jokes… but yeah, um. Did everyone have a good weekend?? Yes, that's a MUCH better topic! We love our lawyers!!