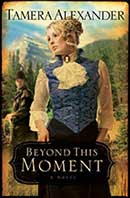 I just have to say…
I am very blessed to be a part of the Middle Tennessee Christian Writer's group. We have so many VERY VERY talented authors and I've learned SO very much from each of them.
So, I figured I'd continue the theme and review another MTCW member's book.
This week, I've picked Tamera Alexander's "Beyond This Moment" because I just finished it last week, and it was AMAZING!
But once again, I'm getting ahead of myself.
Official Amazon Blurb:
Dismissed from the university where she served as Professor of Romantic Languages, Dr. Molly Whitcomb travels west to start over in the secluded mountain town of Timber Ridge, Colorado, where she'll be teaching children. Her train stops in Denver, and on a whim, Molly purchases a wedding band–an attempt to cover a mistake, but also a chance at a fresh start.
Sheriff James McPherson was eager to hire a schoolteacher, but Dr. Molly Whitcomb isn't what he expected. His instincts about people–which rarely miss the mark–tell him she's hiding something. And when Molly's secret is revealed, her reinvented life begins to unravel. What's more, she risks losing her newfound relationship with the sheriff and her renewed faith in God.
Krista's thoughts: First, KUDOS to whoever wrote the aforementioned blurb. Sometimes these blurbs give away too much of the story and almost make it pointless to read the book, but this one is very very good. Gives some secret hints that to be honest, I might have reviewed about if not for reading their masterful summary.
So anyway, I LOVED IT! I skipped a whole evening of writing to finish this, and stayed up late into the night too. It's one of those feel good romances that you want to see it end very badly because you're rooting for the characters. But there is a ton of depth beyond the romance, with many deep issues dealt with. I LOVE when authors have the guts to dig deep, and Tamera sure delivers.
So… two thumbs up from moi!
Discussion: Let's see… how about everyone tell me the last GOOD book you read? Ugh, I should say this, because I'm bound to add too many books to my TBR pile!!