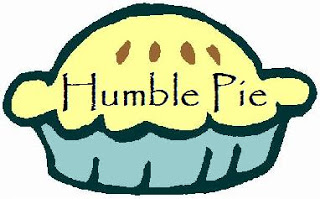 I love my children.
I really do.
But sometimes they have a way of saying things that are just so honest that it's humbling (not to mention embarrassing and irritating!)
Example One: I try my best to teach my kids that we don't just buy something because we happen to want it when we see it in the store. 98% of the time when they ask for something, my response is, "We don't have money to buy that today." That isn't to say we are out of money, literally, but to teach them that we need to save for things, budget for them, instead of just buying on a whim. But a few years ago, we were having a b-day party for Gabby, and I'd recently bought the kiddos a sandbox at a garage sale. However, we hadn't gotten to Lowe's to get sand for it yet. So, after cake, we were all sitting outside, and someone asked about the sandbox. My daughter spoke up before I could say a word: "Oh, Mommy and Daddy don't have enough money to buy sand." I, as you can imagine, was mortified. Everyone looked at me with expressions of pity. My father-in-law went out that same day and bought us sand, even though I assured everyone that it wasn't because of our finances, but lack of time instead.
Example Two: When I was pregnant with Gabby, I told my kids that my belly would get smaller once baby wasn't in there anymore. Well, a few days after I got home with my Gabriella, Karalynn came and sat by me and gave me a very serious look. "Mommy, I though that after you had the baby, you wouldn't be fat anymore." I, like the hormonal, postpartum blues-filled Mom I was, cried.
Example Three: To bring us to current (and to stop picking on Karalynn,) I got to my in-laws house on Saturday to get my kids, and of course I was overwhelmed with little girl hugs. I LOVED it. I sat down on the couch and Lacy was snuggling with me and Annabelle. She put a hand to my belly and said, "Mommy, I can tell baby Annabelle has grown!" I smiled. "You have?" She nodded. "Yep. Your legs are a LOT bigger now!"
MY LEGS?????
In retribution … I'm posting these fun pictures of my kiddos from last weekend.
Nice girls posing with great-grandma… (they just got out of the pool, hence the wet hair)
Have your kids, or anyone else for that matter, kept you humble lately?