IT'S HERE!!!!!!
IT'S HERE!!!!!!
A Side of Faith is HERE!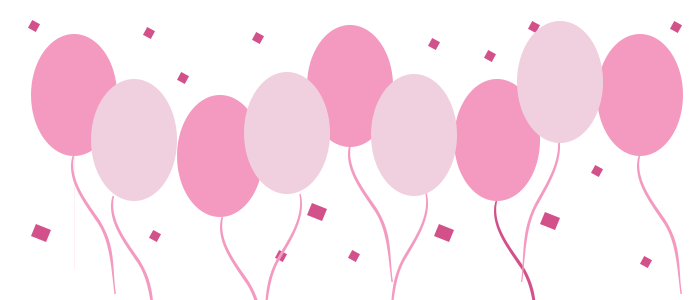 And you can't have a book launch without CELEBRATING, right? Of course not! So today is party day here on my blog, and I'm ecstatic that you've joined me!
What IS a blog party, you ask?
Well, here is MY version of it.
A blog party is basically just an all-day open house where you can come and go as you please!
I'll be present pretty much the whole day, responding to comments as they come in, answering questions you have, drinking some Dr. Pepper, eating chocolate…. (Oh, yes, I'll have the real stuff at home, I mean, I gotta live a little on release day, right?!?)
YOU can leave comments, ask questions, click on links to buy the book… *grin* and register to win the FAITH-FILLED goodie basket I'm giving away!
THE BOOK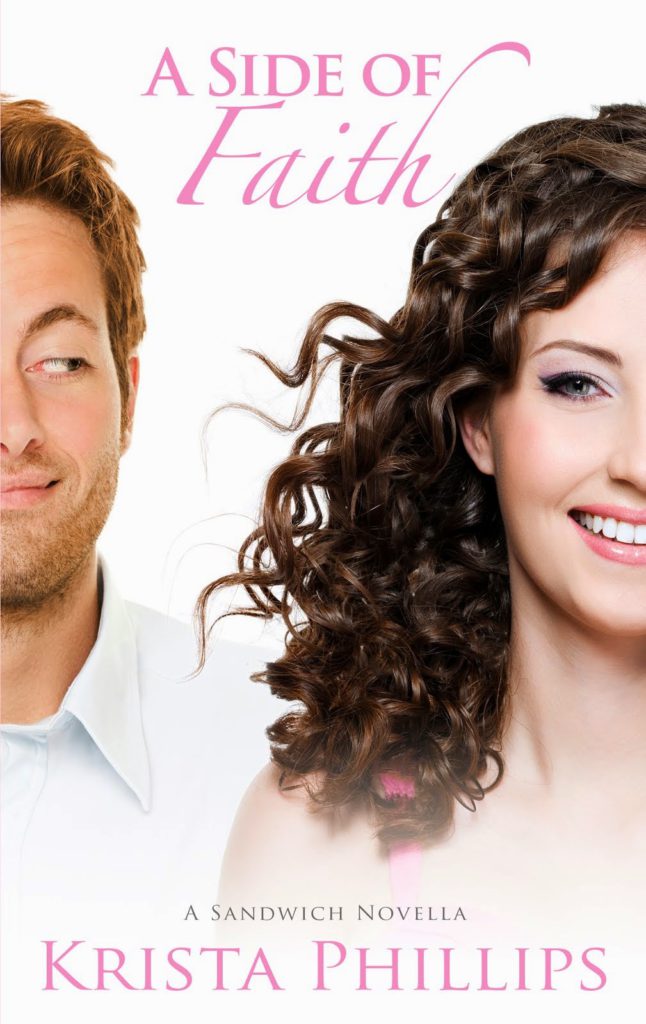 He is everything she never wanted…
Rachel Carter is on top of the world. A new job in a new town, friends,
and a house to call her own. Men? Eh, someday. And when the time comes,
she'll go for a nice safe geek or something. She will NOT be repeating
the mistakes of her youth.

But then Cameron Foster comes knocking on her door, reminding her of the man she vows never to think of again.

God wouldn't send her a man who reminds her of everything she is trying to put behind her…would He?
FUN FACTS ABOUT….
A Side of Faith

A Side of Faith is a NOVELLA. See this post if you're not sure what that means!
The setting is in Sandwich, Illinois, a REAL town about an hour or so west of Chicago.
There is NOT the "first" Sandwich book, just the first novella! Sandwich, with a Side of Romance released in 2012 and is a full length Christian romance. While the characters are in A Side of Faith, they are no longer the main characters.
For those of you who've read Sandwich, you'll be excited to hear that Reuben and Maddie have some FUN news to share….
I worried that readers would be confused when they find the heroine's name isn't Faith…instead points to the THEME of the book!
I published A Side of Faith myself, referred to these days as indie-publishing! It has its positives and negatives. Positive: I keep more of the profits! Negatives: I fronted all of the costs and did all the work! (and there was a lot of work…)
Because I published the book myself, it won't be found in libraries or non-online bookstores. Boo!
Two more novellas are planned! A Side of Hope will release this winter and A Side of Love will release in the Spring. I also plan a "finale" full length novel for next fall called, The Greatest is Love.
THE AUTHOR
I have a very unhealthy love of Dr. Pepper
And chocolate….
I was born in Sandwich, Illinois. Many things in the books are based on my memories as a child, which I did for nostalgia reasons. So a few things may not be current…. 🙂
My hubby and I have four amazing, beautiful daughters, ages ranging from 13 to 4. We're currently shopping for shotguns to keep those prospective boys in line…..
I'm an odd-ducky author who loves numbers as well as words…. and have the excel spreadsheets to prove it! (Cameron in A Side of Faith was one of my favorite heroes to write!)
I met my husband in a chatroom at 17 years old. I married him a year later, and gave him our first daughter a year after that.
I thank God everyday that the crazy guy I chatted with didn't turn out to be an Internet predator…. He's pretty awesome, actually!
I have a super awesome new agent, Sarah Freese of WordServe Literary! We're working on selling some other projects outside of Sandwich…. so stay tuned!
I LOVE CHOCOLATE! (Oh, yeah, I think I already mentioned that….)
HOW DO I GET THE BOOK
A Side of Faith is available at most major online retailers via ebook!


amazon.com
barnesandnoble.com
itunes (ibook)
kobo.com
It is ONLY available on Amazon.com for the paperback version.
THE GIVEAWAY
I'm so excited about the gift package!! During my launch party for my first novel, Sandwich, with a Side of Romance, I gave away a SANDWICH themed basket.
I decided this time, I would do a FAITH themed basket.
In it, you'll receive —
A gold FAITH bracelet (fake gold–cause I'd need to sell a LOT of books to afford the real stuff!)
A FAMILY, FAITH, FRIENDS candle
A super cool pink plastic cup with a Bible verse about faith on it
A cute little wooden decor with FAITH on it
A copy of Sandwich, With a Side of Romance
A copy of A Side of Faith
And just because I couldn't forget the sandwich tie-in all together… a $15 Subway giftcard!
Total Value: ~ $80 ~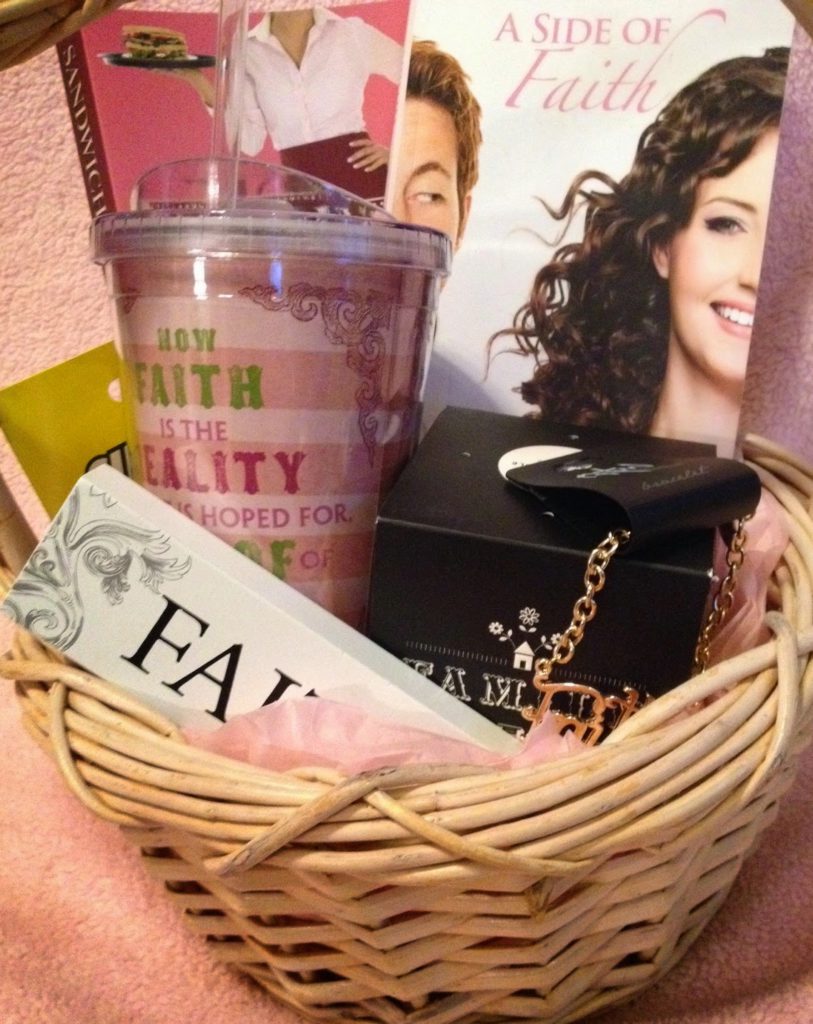 HOW TO ENTER
I'm using Rafflecopter to track entries!
You'll have a bunch of different ways to enter, up to SIX entries per person!
If you have issues using rafflecopter, let me know in the comments below and I'll walk you through it!
*Note* Only entries made through Rafflecopter will be counted!
LET THE PARTY BEGIN!

Let's chat about faith and books!
I'd love to answer any questions you have, or hear YOUR faith story!