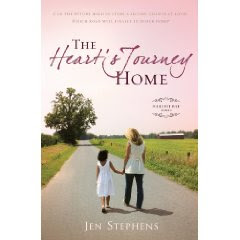 I'm SO excited to host my first Friday Blog PJ party!
And joining me today is my good friend and fab author Jen Stephens! As part of the festivities, Jen allowed me to interview her, AND she is going to give away a copy of her debut book, A Heart's Journey Home, to a fellow party-goer!
So… get on your virtual PJs, grab some popcorn, chocolate, and coke, and let the FUN begin!!!
Krista: Jen, I'm so excited to have you at my blog party today! You look AWESOME with your pig tails and Wonder Woman PJs on. So…. What kinda fuzzy slippers did you bring to wear at our blog PJ party? Mine are big black teddy bears….
Jen: Goofy. We just visited Disney for the first time this past December and I'm a sucker for the big, silly character!
Krista: LOVE me some Goofy slippers! Awesome! Okay, now that we are all snug in our slippers and doped up on chocolate, OH MY GOSH! I am SO excited for you! Your debut novel, The Heart's Journey Home, released about a month ago. You must be flying SO high! Tell us about that moment when you FIRST held your book! Details, girlfriend, details!
Jen: It was very surreal. I actually had just gotten off the treadmill and was on the phone with the girl who was helping me plan my release party. The UPS guy came to our door and my 5-year-old got the book from him and handed it to me! I hugged her and explained to her that she just gave me my first copy of my book . . . and then she got into trouble for opening the door to a stranger!
Krista: Speaking of The Heart's Journey Home, what's it about?
Jen: The Heart's Journey Home is a story about life, love, loss, and finding love again. It's a story about how faith can lead you home . . . though it may not be on the path that you expect. Here is a brief synopsis:
Three years after Kate Sterling's heart was shattered by the unexpected death of her husband, she packs up what is left of her life and moves back to Harvest Bay, Ohio, with her young daughter. She soon discovers that her sleepy hometown has changed—and that she has been given a second chance at love. But, is God leading her to a love linked to the past . . . or to one who will walk with her into the future? Which road will Kate take on The Heart's Journey Home?
The Heart's Journey Home is very special to me, and I hope and pray that whoever reads it will be as touched as I was writing it. I believe that many of the scenes were Spirit-led because of the way it flowed and the way I felt as I wrote them. This is NOT my biography, but I come from a blended family and my Daddy went home to be with the Lord nine years ago, so in many ways writing this book was an emotional release for me. I pray that my readers can sense even a fraction of that emotion.
Krista: Wow, that sounds amazing, Jen!! I totally get how writing can be really emotional. We put a ton of ourselves in our books (emotionally not literally) whether we realize it or not.
Okay– Twitter Worthy question: What kind of M & M's are we eating at our blog PJ party? Peanut, plain, almond (please so no), dark chocolate, Mint…. Or some other kind I'm unaware of
Jen: PLAIN! M&M's are my fave candy and they've always, always got to be plain.
Krista: LOL! I'm a fan of plain myself, although a good mint M&M is always a welcome diversion!
On to my FAVORITE part of interviews:
Krista's Pop Plot Brainstorming Quiz!
Rules: I give you a few items to work with, and you dream up a quick plot. Ready???
Give me a story that involves:
Nintendo WII
Dirty Laundry
That green goup girls put on their face at slumber parties (a mask something or other…)
And…. To shake this up a little, make it be of the thriller genre.
GO!
Jen: Gee whiz, Krista! This is tough! Okay, let's see . . . Set the mood . . . dim lighting, scary music . . . Ahem . . . It was a dark and stormy night . . . HA! Just kidding! Okay, let's see . . .
It had been a long week. I was ready for some relaxation by Friday evening so, with the kids deeply involved in a game on the Nintendo Wii, I took a long, hot bath and then treated myself to an exfoliating mask. When I came out of the bathroom, the kids laughed and said I looked like an alien, but when the lights went out, no one was laughing. I was slightly annoyed because I needed to get a head start on the weekend laundry but the knock at the door postponed that chore yet again. I nervously answered it to find a man in a ski mask with a chain saw that was so startled by the sight of me in my green mask that he ran away and never came back. Too bad because I had some bushes that really needed trimming!
Krista: OH MY GOODNESS! That is hilarious:-) Well done! A GREAT scary story for our PJ party!
Okay all you party-animals out there…. it's YOUR TURN!
I have two questions for you today:
What kind of fuzzy slippers are YOU wearing to our blog PJ party?
Truth… or dare? *grin*
All who DARE to comment will be entered to win a copy of
Jen's new book
!
You have until Sunday at 8:00 P.M. CST to enter. Winner announced on Monday!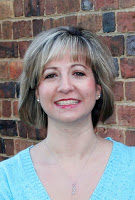 Jen Stephens grew up in a small Ohio town where she developed a passion for writing at an early age. She participated in Young Authors contests in grade school, wrote her first novel in high school, and wrote dozens of poems and short stories in between. She majored in elementary education with a concentration in English and the humanities at the University of Toledo.
Jen lives in the Nashville, Tennessee, area with her husband and two beautiful daughters. She teaches third grade at a Christian school and is active in her church. A member of Middle Tennessee Christian Writers and Nashville Christian Writers Association, she writes in her "spare" time. Her first novel, The Heart's Journey Home, will release in February 2010.