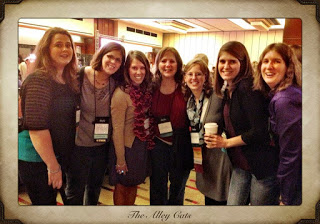 Super Cool Alleycat Writers!
EEEE!!!!!
I can barely contain my excitement!!
TOMORROW I leave for Indianapolis to visit with a HUGE number of the most wonderful writers I know! SERIOUSLY, this is dream land for me, y'all!!
Every September, ACFW (American Christian Fiction Writers) hosts an annual writer's conference. It's one of the largest (if not THE largest) christian writer's conferences out there. This will be my 4th year going, although I missed two years in there when Annabelle was in the hospital, and the year following when she was still very unstable.
Alas, I'm not "officially" going to conference. Because of the AMAZINGNESS of this conference, the cost is just much, much more than our finances could even begin to allow. But I'm tagging along with a few of the other writers from my area who are going, so I can at least go and SEE everyone and give a TON of hugs and do a LOT of chatting.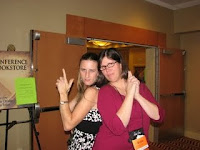 Super Spy Writers….
AND I get to meet with Rachelle Gardner, my agent (a face to face is rare since she's in Colorado!) as well as have dinner with my publishing house peeps (waving at Abingdon folks and all their stellar authors!)
Am I a little excited? Why yes. Yes, I AM!!
Prayers for my hubby this weekend as he holds down the fort are appreciated!! And prayers for safe travels for all the writers (including our carpool group of 4) as they converge on Indianapolis are appreciated as well!
Also, I probably don't ask for prayer for this enough, but I'm really wanting to commit some time to prayer about my writing future this weekend. I know in my heart that this is writing thing is what He has called me to do, and he has opened so many doors in the past. But the past two years have been a huge holding pattern for me while I try to learn how to successfully manage my family and my writing career. I've failed at each on numerous occassions, so it's been a bit of a learning experience for me.
I just want to make sure I'm taking the steps God wants me to take. That I'm writing the stories that He wants me to write.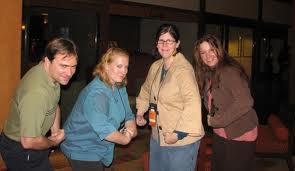 Super tough writers! (Dude… I look really tall here,
but I think they are just really short!)
Last year, God used ACFW to have a profound impact on my heart. It wasn't about getting to be a better writer, it was about calming my chaotic spirit and resting in the joy of knowing that my stories make Jesus smile. Like a daddy gushing praise over his little girls' scribbles. That's how I felt. I was looking at what I was writing and worrying about how people would take it, if they thought my words were dumb or ugly, if they thought my stories contrived or stupid.
I was worrying about that a lot. Too much, in fact.
But Jesus wrapped his arms around me, kissed the top of my head, and said, "I LOVE THEM, Krista. They make me smile!"
Yeah. My heart soared and I'm sure I had this crazy silly grin on my face amidst tears.
So this year, I'm going, knowing I'll have much time on my hands since I'm not attending the actual conference, and am praying God will meet me where I am and speak to me whatever words HE knows I need to hear this year.
Your prayers to that end are appreciated as well!!
(NOTE! I'll be posting fun PICTURES this weekend on my Facebook author page, so if you haven't check it out or "liked" it yet… What ya waiting for??)