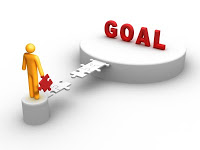 I've been dragging my feet this year on making my 2010 goals. For obvious reasons (aka baby #4) this year is going to be a tad hectic. But, that's even more of a reason that I need to plan well! As we learned last week… it's not my strong suit!
Another part of my problem is that I'm at a cross roads in my writing, and still praying about my "next" step in my writing. One completed novel is the first in a 3 book series… and the second book is 1/2 done. Do I finish it now? Or should I leave that be, and go onto a new series until the first one sells?
So… I've bit my cheek, focused my eyes, and decided to put down goals as best I know how, but realizing that God might have different plans, and I need to be flexible. First… Let me share….
Krista's Rules for Goal Making
PRAY about them. A goal is only as good as the God who inspires it.
Make your goals attainable! "Finish writing 20 books and have 10 of them sell" is, well, unattainable. Unrealistic goals lead to shattered hopes which lead to feelings of failure which leads to the dreaded word "quit".
But don't sell yourself short. If you set the bar too low, you aren't challenging yourself to do better. Make a goal that you KNOW you can reach, then add an extra step that stretches you.
Goals should be specific and measurable. If you can't measure a goal for completion, or if it is left up to interpretation, it is much easier to cheat. (i.e. I want to finish writing a book… but I never said how long it has to be (10K words will sell right?!?)
Define the terms and time lines. Pace yourself, make some goals due earlier in the year, and some at the end of the year.
Set long term and short term goals. Short term goals are specific and help you achieve your long term, more generic goals. "I want to publish a book" is a long term goal, and "Get x amount of words written" is a short term goal to work toward the big one.
Have internal and external goals. Internal goals improve yourself and external goals are specific actions you want to complete. (i.e. I want to improve my writer habits = internal vs. I want to sell this book by x date = external.)
Renegotiate when needed. If you're half-way through the year, and your goals are now unachievable due to circumstances called LIFE, it's easy to throw in the towel. Allow yourself to renegotiate. In the end, GOD should rule what you do, not some silly goal you set for yourself a few months ago before everything got crazy.
Okay, now that I've set up the rules… here are my goals.
1.) Finish LOL: Mission Peeps
Deadline: February 28th
Measurement: at least 85k words and "The End" is typed
2.) Finish 2nd round of edits on LFYISI.
Deadline: March 31st
Measurement: All major "content" and "research" issues are completed and incorporated into the book, and 1 more read through has been done. All crit group suggestions have been reviewed and incorporated.
3.) Rough Draft of new Stand-alone book.
Deadline: August 1st (aka baby's due date!)
Measurement: 80k words + written on a rough draft
I have other goals too that I won't share here right now… but they include things like entering X number of contests, attending conferences (although not sure that will happen this year), and submitting/following up with agents.
The point is, for me, if I don't have something to shoot for, nothing will get done. I'll piddle around doing little bits on a few things and won't concentrate on working towards a big goal. I may be lofty in my expectations, but like I said on Monday, I'm determined to get as much done PRIOR to baby's arrival in August.
Discussion: Have you set your 2010 writing goals yet???