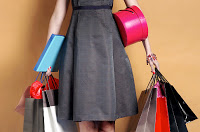 I'm sure everyone has had their full of turkey and turkey sandwiches from the leftovers to tide them over until… well, until Christmas at least! And I'm also sure that EVERYONE braved the crowds yesterday and got up at 2 a.m. to shop like a maniac… Don't try to deny it!!!
Just stopping in real quick with a reminder that TOMORROW is the last day to comment on my interview with Tamara Leigh for a chance to win ALL FIVE of her CBA novels.
Hope everyone had a WONDERFUL Thanksgiving!!!!
-krista