I'm back to the world of blogging.
Did you miss me??? *grin*
What a WEEK!
Recap: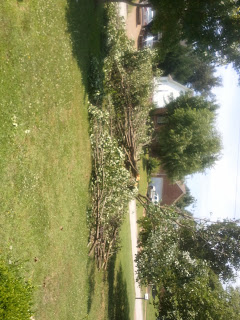 Our poor departed tree. Our front yard doesn't look the same!!!
We lost a tree in a storm… boo! But our sweet neighbor helped us cut most of it down, then the city came and took the rest of it for us. Not sure what to do with the overly large stump left in our yard though!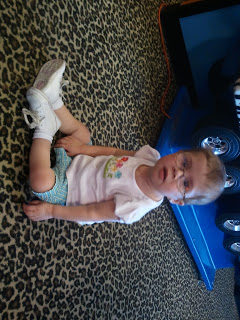 Playing while the other kids see the dentist!
Dentist and Eye doctor appointments for most all the kiddos! Good news: NO CAVITIES. Bad news: Lacy and Gabby need new glasses… BOO!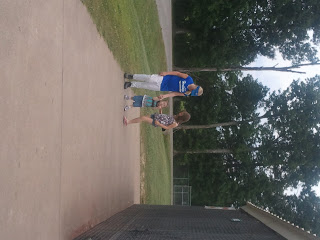 Karalynn and Gabby helping Annabelle walk at Lacy's game…
The girls are officially DONE WITH SOFTBALL. I really enjoy their softball games… games are FUN for me and I LOVE cheering them on. But the schedule is a LOT for us, especially with Scott working nights and Annabelle still being a little harder to take out. I'm hoping next year with Annabelle a little bigger (and maybe eating by then???) it won't be quite so stressful for me. They both finished SO SO SO strong making some fabulous plays, and Karalynn made her BEST play of the year by catching a pop fly from the other teams best hitter, then throwing it to 3rd to make a double play. WOOT! This Momma was screaming and jumping up and down… I scared Annabelle with my hysterical cheering, ha!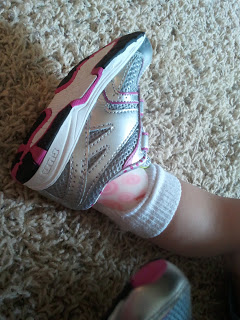 My new pink swirly braces and cool silver tennis shoes!!!
Annabelle got her braces for her feet! They are not bad at all… you can barely see them above her special shoe she got with them. Even before the brace though, her walking had been improving like CRAZY. She now walks all over, and can even recover herself some when she falls! She still has a lot of "getting steady" to do, but the braces should help improve that over time. I have a few videos to post but I can't get them to work today, so I'll post it later this week when I get it to work. Seriously, you will NOT BELIEVE your eyes when you see my baby go! And to think it's only been about 3 weeks since she took those first couple amazing steps!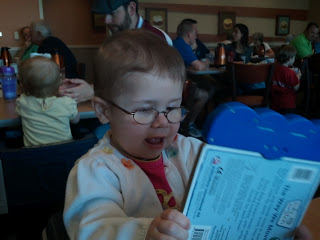 Reading a book while everyone eats at IHOP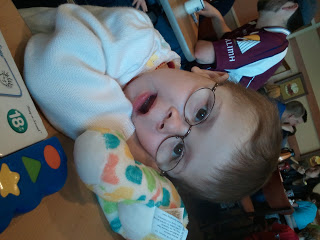 Giraffe snuggle time!!!
Grandma and Grandpa Phillips are here to celebrate my Gabby's birthday, which is on Wednesday! FUN TIMES by all, and Mommy and Daddy were able to go on our first date in a long time on Saturday night while gma and gpa watched all the kiddos. Gma Phillips did Annabelle's WHOLE night-time routine, and between feeds/meds/oxygen, it isn't for the faint of heart, so BIG KUDDOS to her! What a blessing!!
Kiddos (except for Annabelle of course) will be going back to NC with gma and gpa later this week to spend 10 days there! Please pray for safe travels and a FUN TIME by all as they leave, and that Mommy and Daddy (more mommy since daddy will still be working lots…) will have a nice, needed, productive break in the mean time!
Holy cow, I know there is more, but my mind is spinning at the moment, AND I'm getting ready to go get my "write" on at Starbucks in a bit! Taking advantage of my babysitting while I have it:-) I'm moving on to some editing of a different book that I had completed… so prayers that I can get it FINISHED soon and on to my agent (and then hopefully SOLD to a publishing house!) will be appreciated!!!
My thought for the Day:
GOD IS ON THE MOVE. Not that He is leaving… but He is moving and working and I feel like I'm holding my breath… waiting for what is in store next. Kinda like when you're walking in the woods… and you can tell there is something coming up the path, but you're not sure what it is exactly. It could be a field of wild flowers with the bright sun shining, or it could be a cliff overlooking the water rapids that you'll have no choice but to jump into and trust God on the ride. But trust we must, regardless of what is up ahead.