A ton of news to update you on:
So many people ask me how Annabelle is doing, and really my answer depends on the hour. She's had a VERY good last two days overall, though, and I have some VERY big and good news to give at the end, and some fun pictures!
Blood Pressure: We've been doing REALLY well the last few days, although in the last hour she's gone back down to struggling with it again, and so they've given her some more blood and some other things to help.
Sedation: She's doing too well, part of the reason for her BP issues! She'd been going through some pretty major withdrawls from the morphine and other medications she'd been on, and those have leveled out today, so that is a MAJOR praise. She's sleeping most of the time, with little bits of awake time. We are actually going to lessen her medication because she is sleeping TOO much now.
Medicines: The nurses always say that when they start taking things away, that is a good sign. We've taken her off quite a few different medicines, and started her on a few new ones, which are all good signs because it means we're taking good steps in the right direction! WOOHOO!
IV: On the not so great side, her IV in her stomach went bad a few days ago, so they had to take it out and put one in her… HEAD! ACK! They say it doesn't really hurt her as much as it hurts Momma to look at it, but I only barely believe them. OUCH OUCH OUCH!
Drain Tubes: She'd had 4 drainage tubes in at one point, 3 chest tubes and one in her stomach. She's down to only 2 chest tubes now, and those will probably stay for quite a few more days. Still… that's PROGRESS! 2 down, 2 to go!
And now for my BIG NEWS!!!!
NO MORE BREATHING TUBE! WOOHOO! This means that I can finally, after WAY too long, HOLD my baby for as long as I want!
They extubated her this morning (aka took her off the ventilator) and she did FABULOUS! When they take out the tube, they do it gradually. First, they take out the tube and put her on a machine (called a CPAP) that is like this wrap around her head and this big blue thing sticking in her nose. She looks highly uncomfortable, but it's for her own good! The next step after that is just a regular nasal oxygen tube. Usually she is on the CPAP for a day or two before graduating, but she was doing SO good at about noon that they went ahead and moved her up in advance!
I got a good couple hours of holding her in, but then her blood pressure fell and some of her levels were not ideal, so she went back on the CPAP machine. I can still hold her, and they think she only needs for a few more hours, but I'm not discouraged. Even if they don't take it off until tomorrow, she is still doing wonderfully!
Please still be praying though. If her numbers don't improve soon, they MIGHT have to put her tube back in and ugh. We'd survive that and God knows, but this is such a HUGE step to the good, it would be very disappointing. One step at a time though!
Okay, so picture time (as narrated by Annabelle!)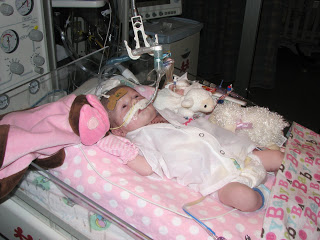 Here I am with my hospital gown on for the first time! Still have that dumb breathing tube, but now for long, Peeps!