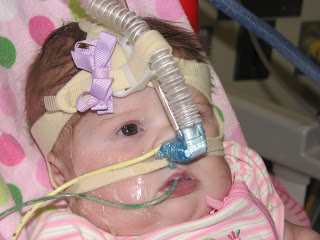 CPAP stinks… but at least I have my bow!
I've loved posting about CHD Awareness week. I'm sorry if it's gotten a little "old" to readers but it's something that is so near to my heart and… awareness is REALLY important on so many levels.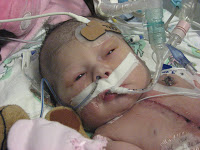 1 day post Norwood (precrash)
All across the country Heart moms/dads/friends/kids got together and did some pretty cool things. From blogging to fundraising to gift drives to blood drives, it made me smile to see all the effort. In future years, I'd love to do something more, but I know that this year (and probably a few to come) my concentration needs to be on keeping Annabelle well. Someday, I hope to be able to step up and do more.
On this last day of heart week, Valentine's Day no less, I'd love to just highlight a few ways YOU can help CHD kiddos. We are all at different spots in life, and God calls us to help in so many different ways. So here are just a few: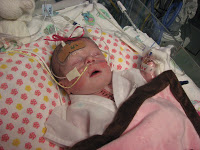 1st extubation (I can tell from pic she's gonna fail!)
PRAYERS
This costs nothing.
But is vital.
I can't express my appreciation for all the people that bathed Annabelle in prayer, and still do. So pick a heart kiddo, or two, or three or ten… and commit to pray for them. Print out their picture and hang it on the fridge or beside your computer as a reminder to daily pray for them. You can pick one that was mentioned the other day on my "All the little babies…" post or geez. Just a quick Google can give you the names and blogs of quite a few of them. If you can't find any, let me know and I have the names of a few of them who could REALLY use prayer right now. Obviously, you can always pick Annabelle too:-)
But be intentional about your prayers for these little ones. Think of it as your own "Adopt a CHD baby" in prayer:-)
VOLUNTEER
Contact your local children's hospital and ask how to volunteer. There are SO SO SO many ways to help there. Yes, being around kids that are that sick is heart-breaking. But they are WORTH it. It costs nothing but your time and a piece of your heart.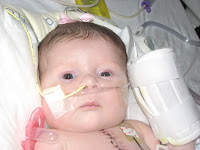 I'm gonna hit you….
RONALD MCDONALD HOUSE
The RMH isn't the only place that helps families of CHD babies, but it is one of the biggies. Most locations accept volunteers to help clean or man the registration desk, or you can bake cookies and take to the residents, or many even have a sign-up sheet to cook meals for the residents. I can NOT tell you how needed this is. It is easy to live on vending machines or the one or two fast-food restaurants while you are in the hospital, so a home-cooked breakfast, lunch or dinner is amazing.

You can also donate toys, books, or a host of other items. Most houses have a "wish list" they can send you of things they need. Of course, they always accept monetary donations!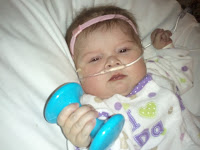 Shake weight (waiting for heart!)
RESEARCH
The sad fact is, CHD research is hugely underfunded. Many people give to the American Heart Association, which is FANTASTIC, but only a very very small amount of that goes to congenital heart defect research.

The Children's Heart Foundation is the organization I recommend for donations for CHD research.
I believe you can also give to your local children's hospital and earmark for this purpose as well.
FAMILIES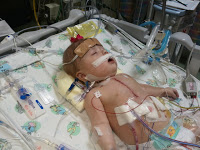 Post-Transplant: New Heart!
As my husband and I well know, having a baby with a heart defect can take a HUGE toll on a family financially. Time has to be taken off of work while your baby is in the hospital, and between medical expenses and living expenses and in our case, loss of job due to the duration of the hospital stay, its hard. And worrying about "money" during this time is just an unneeded added stresser.

Yet, how do you help???
Well, a few things people did for US that were extremely helpful were:
Giftcards to places to eat near the hospital.
Giftcards to stores like Target/Walmart.
Giftcards to gas stations (the back and forth costs A LOT, even though we were only 45 minutes away!)
Monetary gifts (This was something we never felt comfortable asking for, but some felt led to give to us even without us asking. As a direct result… we can still pay our bills today, even though our income is currently well less than half of what it was before Annabelle.)
Meals when we came home (waving to my amazing church family!)
Gifts for our kids. Siblings many times feel neglected, so little things to cheer them up is SO helpful.
Cleaning! Around Christmas last year, someone came and cleaned our house for us! While this was a wee bit embarrassing… I appreciated it!! (the person who came ended up being someone who did it for a living, which made me feel better about them seeing my mess house!)
My family all got together and had a work-day at my house. They changed out our carpets, helped freshen up the paint, and clean, in preparation for Annabelle's homecoming. Granted, she didn't come home for a long time, unbeknownst to us at the time, but still, bringing a heart-baby home to a CLEAN house is REALLY important!
Christmas gifts! Someone (still not sure who…) bought Christmas gifts for my kiddos that year. And this past year, when money was short, three different individuals/groups helped us out with Christmas funds as well.
I'm sure I'm forgetting something, but suffice to say, we were so very appreciative of the outpouring of love to our family.
VISITING
This is a tough one. On one hand, the hospital gets a super lonely place. I didn't get a lot of visitors, which to be honest, made me sad at times. Yet at the same time, it's about Annabelle, and the less visitors the better for her, as we really didn't need her getting sick! It was always a tough balance!
So here's my Krista tips: If you're going to visit family with a baby in the hospital, for whatever reason—
Make sure you are not sick and haven't been sick and haven't been around anyone who has BEEN sick. I'd rather be lonely than for you to make my baby sick!!!!
Ask before you go… just in case it happens to be the one day they plan to leave the hospital!
And if they ARE leaving… maybe ask if the family wants someone to sit with baby/child for you? Nurses are AWESOME… but I always felt so good when a family member or close friend was able to go visit when I wasn't able to be there.
Even if you can't go to see the baby (sometimes baby is just too sick for visitors…), go visit the family! Take them a meal they can eat in the waiting room, or a goodie basket, or just a hug! While being overwhelmed with visitors can be, well, overwhelming (I had a NO VISITOR policy for a while when I was having trouble coping toward the beginning… I even turned away my close family!) lacking of visitors can also be super hard, especially in a prolonged stay.
(tip to heart-families — let everyone know your visiting policy! Post it on your blog or facebook or caring bridge… this is something I didn't do, but hind sight, would totally have done!)
Discussion:
Heart families — what are ways people have helped YOU that was invaluable? Also, there are a TON of foundations that help heart babies and families and research… please free to list more in the comments!!!
Non-heart families — If you have questions about any of the above or have other ideas, feel free to add them!!!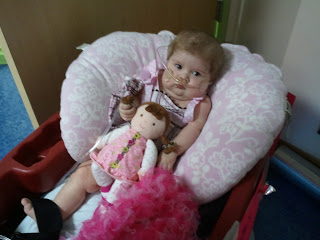 10 months old: Going home for the 1st time!