I'm not really a music reality TV show watcher.
I watch Idol occasionally at the end.
I've watched the voice once or twice on accident.
And I've never watched Duet.
Mostly because I don't have a lot of time to watch TV at night with 4 kids!
BUT… My kiddos are at Grandma and Grandpa's house, and with just Annabelle and I hanging out while Daddy was at work, I had the TV on so the house wasn't quiet, and Duet happened to be on last night.
And one of the duets sang one of my FAVORITE songs of all time.
How Great Thou Art.
The song makes me want to drop to my knees and cry every time I hear it. It is even more poignant hearing it while Annabelle toddles around my living room, looking at me every 4 or 5 steps with this wide grin on her face, as if saying, "Look, Momma, aren't you so proud of how good I'm doing?"
Yes, baby, yes I am.
More proud that I could ever begin to tell you.
And more thankful to Jesus for each day he has blessed me with to spend with you. How GREAT thou art, Jesus!
But life isn't all roses and fun milestones.
Life holds pain and grief and hurt, too.
It's when another human speaks words that inflict incredible wounds that make lasting scars
It's when small pains add up to a burden that is crushing.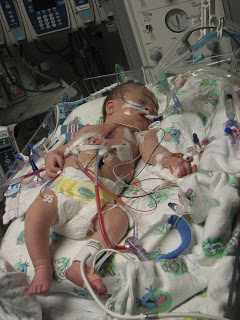 7/27/10 – about 10 hours before her crash
It's when you have to walk into a hospital room and see your newborn child
look like this, and when you get a phone call that night telling you that
your baby had taken a bad turn and was only alive due to someone
pressing on her heart with their fingers, forcing it to push blood to her
body.
It's when a parent is told that it's time to say goodbye to their child for the last time this side of Heaven.
God has never promised us this life would be roses and sunshine.
Yet… the song holds true.
How Great Thou Art, Jesus. How Great Thou Art.
We can't let our faith in God be dependent on circumstances. God's greatness is not dependent on the ebb and flow of life. God is greater than this life, and THANK YOU GOD for that!!!
My challenge for you this Friday is this:
Regardless of where you are in life, whether you are on a great high in life with things going fabulous and your hands raised in praise to an amazing Jesus who has blessed you beyond imagination, or whether you are on your knees begging God to answer your questions and explain to you how life could go so terribly wrong…
Acknowledge the fact that God is bigger than where you are right now.
Acknowledge that there is a greater purpose for all things, both good things and bad ones, than our minds can grasp.
Acknowledge how GREAT God is, and choose now to serve Him, regardless of the results, consequences, or your fears.
I do. With all my heart, and with my not-quite-in-tune voice, Jesus, I can and will sing, "How Great Thou Art."