without being like, "Happy Birthday to ME!" and sounding all nose in the air and everything?
Granted, I realize that I've seen other people do their own birthday posts and I've never thought that about them…
but I'm weird. I worry about such stupid things.
I've had a good day so far. Doing Laundry. Lounging around in bed, getting up only to SWITCH laundry and to take care of Annabelle. Read part of a book. Snoozed a bit but not really napped.
My hubby works today, so my kids took over our traditional "breakfast in bed."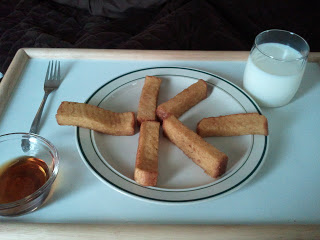 I've gotten a couple of homemade cards, and a few cards in the mail. My kiddos have helped pick up the house and for the most part, been "nice" to each other and given me minimal "I'm bored"'s and "____ is being mean"'s.
Going out to dinner with my family tonight, and splurging and getting my OWN steak this time (hubby and I usually share one to save calories and money!)
Yup, I'm 31 this year. And it's a low-key birthday, but I have the gift I'd begged God for last year.
My family is together. My Annabelle is home… and healthy!
If I get nothing else today, I have that, and it's all I could have ever asked for this year.
Now… if you REALLY want to do something for my birthday… you could always go pre-order my book if you haven't already…………………. (HA HA HA!)
Love to you all!!!!