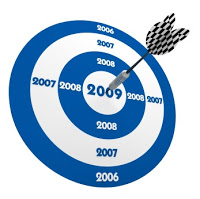 Ahhh, my first post of 2010!!! WOOHOO!
Like many others, I'm in the mood to reflect. How did I do last year compared to my January, 2009 goals?
Let's take a look, shall we?
1.) Finish editing LOL: Mission Jack
Verdict: I did this… about three times. I finished one set of edits by March… but then after Genesis edited again. Then one very quick time again when I got my first request for full. *sigh* It probably needs another edit. In fact, I know it does. But… I attained my goal, so WOOHOO for that!
2.) Finalize proposal for LOL: Mission Jack and whole "Cyberlove" series
Verdict: I have the proposal done for LOL: Mission Jack, but not the whole series. I do mention in the proposal that I have the other two books though. Not 100% sure the right/wrong way to do a multi-book proposal, or if you do a seperate one for each book???
3.) Submit LOL:Mission Jack for publication
Verdict: My measurements for this one were kinda crazy… so technically I didn't meet my goal. BUT… I did submit to two agents, and they both requested fulls. Alas, I'm still waiting to hear back from both, but 2 for 2 isn't bad, or so I like to think:-)
4.) Complete first draft of Book #2 and beginning editing
Verdict: Nope, nope. I'm just now starting back to work on this. I'm ALMOST half way through. But this was not due to my laziness, but God telling me that it needed to sit. I prefer to think of this as me being obediant instead of procrastinating:-)
5.) Complete first draft of Book #3
Verdict: Again… not even close.
6.) Increase my knowledge of writing and publishing
Measurement:
-Attended at least one writer's conference (Blue Ridge tentatively)
Verdict: Attended ACFW instead, and was very glad I did! Also attended a 1-day conference put on by our local writer's group.
-Finish reading JSBell's Books
Verdict: I plead the fifth. Okay, it's a GREAT book… but I have a hard time FINISHING writing craft books cover-to-cover. I tend to flip through and read the stuff that really interests me.
-Pick one other writing related book and finish it
Verdict: Again, the fifth. But… I did start a few… does that count??
7.) Increase my visibility in the market (i.e. network)
Measurement:
-Blog an average of four days per week during months of February – October
Verdict: I was up to 5 days per week all summer, but God knocked on my heart and told me I was over doing it. I'm down to 3 days… and it's working well for me.
-Be active on ACFW forums/email loops
Verdict: I do the monthly e-mail courses through ACFW, but not so much the forums just due to lack of time. I'm also on the "main" loop but again, I don't always participate due to time.
-Participate in monthly local writer's group meetings
Verdict: DONE! I think I only missed one:-)
-Identify and implement at least one new networking strategy
Verdict: Oh wow. This one has to make me think. I guess I'd have to say twitter and facebook, as I think I started both of those this year. And I read other blogs much more than I was this time last year.
What ELSE did I do?
We all make goals… but we also know that sometimes life takes us in a different direction. Other things I did this year:
Entered the Genesis, Touched by Love, and Golden Heart contests. Didn't final in the first two… judging still going on in the last one… but I was happy with my scores, especially for my first year.
I finished a NEW book! I'd planned to work on my original series all year, but mid-year God tugged on my heart that I needed to let those sit and rest, and start on something new. Thus, my sandwich story evolved. I started it in June and finished the beginning of November
EDITED! I finished round 1 of edits on my Sandwich book.
Increased my blog readership. While not as many readers as other blogs… I did go from having an average of 2 comments a post to an average of 20 or so. I am happy with that!

Discussion: Are you satisified with YOUR 2009 accomplishments? Why or why not?