KRISTA'S HOLIDAY
BOOK GIVING GUIDE: 2009
Week 7: Suspense
Margaret Daley's "Christmas Peril"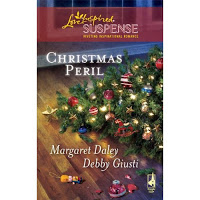 It is bittersweet for me today, as we have come to the end of my first –maybe annual– Holiday book giving guide. Anyone get any good ideas out of these posts??? Well, on this last day, I am happy to interview Margaret Daley! She, along with Debby Giusti, has a new suspense Christmas novel out this month called, "Christmas Peril." And now… heeeeerrrreesssssss Margaret!
Krista: Margaret, welcome! I love that your book has a Christmas theme to it, so I thought it only appropriate to start off this interview with a "Christmas" question. Now, the NORMAL question would be "what is your favorite Christmas memory or tradition" but that would be too normal for my blog. So… since your book is a suspense… share with us your SCARIEST Christmas memory?
Margaret: I must live all my suspense in my head because I don't have a scary Christmas memory. But now that I think about it, there is one thing that happened to one of my students I taught as a special education teacher of kids with special needs at a high school. His house was broken into, and he was murdered. The police have never solved his murder and it's been twenty years ago, but that stunned our school and me. It happened while his parents were Christmas shopping right before Christmas.
Krista: Um, wow. That IS scary! I was thinking more along the lines of a scary Santa Clause or my personal story… the Christmas my sisters and I opened all our presents early and rewrapped them, trying to hide it from my parents. I was scared to death we'd be found out! (we weren't, btw) Anyway, your story totally tops as scariest, in a very sad, sad way!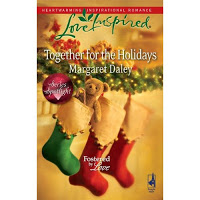 Next… less nightmare-inducing… question. You've written a TON of books, both suspense like Christmas Peril and non-suspense like Together for the Holidays. Do you have a favorite type of book to write, and is one harder than the other?
Margaret: I love to read adventures and suspense books. I think weaving three elements through a story is harder than two. In a romantic suspense you have to have a romance, suspense and faith element. That's harder than just a romance and faith thread that I need for a Love Inspired.
Krista: I totally agree!! But you do it so well, kudos to you!
Speaking of Christmas Peril tell us a little about it!
Margaret: Christmas Peril is my December 2009 anthology with Debby Guisti. You get two stories in one book.
Christmas bells ring with danger in these suspenseful holiday stories
Merry Mayhem by Margaret Daley
When single mom Annie Coleman unexpectedly arrives in Christmas, Oklahoma, police chief Caleb Jackson suspects she's hiding secrets. He'll be watching her closely. And his protection is just what Annie and her daughter need, as danger has followed them to their new home.
Yule Die by Debby Giusti
It's hardly a happy holiday for medical researcher Callie Evans…until she discovers her ailing patient is her long-lost brother. And he's being watched by undercover police officer Joe Petrecelli. When the trio is abducted by a cadre of bad guys, Joe and Callie will have to fight to keep her brother—and themselves—alive.
Krista: Two in one… I LOVE it! Both sound absolutely amazing! And… well… suspenseful!
Okay… drum roll please… It's time for….
Krista's Pop Plot Brainstorming Quiz!
Margaret, all my interviews get the fun privilege of my brainstorming quiz! It's a way to stretch those brain muscles and give us a plot off the top of your head, in elevator pitch style! And in honor of Christmas next week… and Margaret's Christmas novel… I chose a CHRISTMAS themed Quiz! So here goes:
Red and White Striped socks
One of those Snowflake Christmas Bears you get from Wal-Mart (or see in my living room!!)
The song Jingle Bells
A nut-cracker (like, one that actually cracks nuts… not the little wooden soldiers!)
GO!
Margaret
What happens when Santa gets mugged by an elf wearing red and white striped socks and singing Jingle Bells, but the only thing taken are an antique nut-cracker and a Snowflake Christmas Bear?
Krista: They stole a Snowflake Christmas Bear? THE NERVE! Move over CSI… that elf is MINE!
Sorry, I've calmed down now.
Twitter-worthy question: Real or fake tree??
Margaret: Fake. My husband is allergic to pine so we can't have a real tree in the house.
Krista: You are such a sweet wife! My husband would just have an extra dose of allergy medicine shoved at him for a month… (j/k!)
Well, that about draws us to a close! It's been fun, Margaret!! But one last question:
GIFT GIVING GUIDE: Who should I buy your books for?
Margaret: My Love Inspired and Love Inspired Suspense books are good for all generations. I have girls reading my book as young as ten or eleven all the way to women in their nineties. What a neat thing for three or four generations in a family to read the same book and discuss it.
Krista: That is neat! Again, thanks so much for letting me interview you! Now, blog readers, if you want to purchase Christmas Peril as a gift or for yourself (or both! And really… I can't see a reason why you wouldn't…) you can do so at your local book store or online at Amazon.com.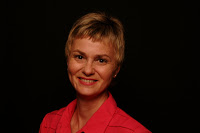 Margaret Daley is an award winning, multi-published author in the romance genre. One of her romantic suspense books, Hearts on the Line, won the American Christian Fiction Writers' Book of the Year Contest. Recently she has won the Holt Medallion, Golden Quill Contest, FHL's Inspirational Readers' Choice Contest, Winter Rose Contest, and the Barclay Gold Contest. She wrote for various secular publishers before the Lord led her to the Christian romance market. She currently writes inspirational romance and romantic suspense books for the Steeple Hill Love Inspired lines. She has sold sixty-six books to date.
Margaret is currently the Volunteer Officer for ACFW. She was one of the founding members of the first ACFW local chapter, WIN in Oklahoma. She served as vice-president for two years in WIN-ACFW and is still on its board as an advisor. She has taught numerous classes for online groups, ACFW and RWA chapters. She enjoys mentoring other authors.
Until she retired last year, she was a teacher of students with special needs for twenty-seven years and volunteered with Special Olympics as a coach. She currently is on the Outreach committee at her church, working on several projects in her community.
You can visit her web site at http://www.margaretdaley.com and read excerpts from her books and learn about the ones recently released and soon to be released.
COMMENT COMMENT COMMENT!
If you do, you'll be entered for a chance to win Margaret and Debby's book, Christmas Peril! But you must comment by tomorrow, Thursday by 10:00 p.m. CST. GOOD LUCK!
Discussion: I've learned my lesson, I won't ask for your scariest Christmas memory (but feel free to share if you have a good one!) How about your… wackiest? Yeah! That'll work!