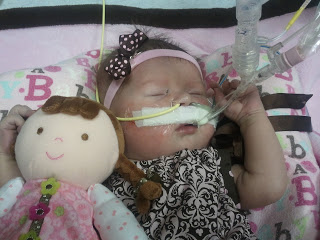 My baby is THREE months old today!!!! MAN I love her!
I really truly can't believe it's been three months.
By this time, my babies are usually sleeping through the night, starting to eat baby cereal, and practicing sitting up but flopping to the side like a overstarched ragdoll.
It's hard for me to digest that instead, my Annabelle is still in the hospital ICU, having a machine breathing for her, not able to be held, and has never even had a bottle much LESS cereal.
Annabelle's manicure…
That said, I am SO SO SO thankful to my Jesus for how far we've come. She's alive. She's still with us. She can (when extubated..) smile at us. She has cute toes and cute fingernails:-) She's one of the best-dressed babies in the PICU (or so say the nurses.) She's survived a major, very risky open-heart surgery, a handful of infections, severe reflux, collapsed lungs, three blood clots… and probably other stuff that I'm not thinking of.
So, while she might not be trying to sit up quite yet, she's still my STRONG TOUGH little girl!
And she's here. When I get really overwhelmed at things, I keep reminding myself of that. SHE'S HERE! She's alive. There is hope.
Things in the PICU have been pretty darn stable lately, which MOMMY LIKES! Little blips like some Brady episodes that she recovered from on her own (that is when her heart-rate drops quickly) and her love of pulling out her tubes (this morning she yanked out her feeding tube.)
I did her manicure the other day when they had to retape her breathing tube. She was restless, so they gave her a paralytic and put her out. When they were done, I still had another 15 minutes or so of a zoned out little girl, so I took advantage and painted her nails. JUST enough time for them to dry!
She's also gained some weight, is now 5.11KG, up from 4.92KG. That means that she is finally… drum roll please…
OVER ELEVEN POUNDS!!!
11lb 4oz to be exact. EEEE!
Momma is VERY excited about that! She'd stalled for the last week or so, so weight gain was a good thing!
One and a half more days till surgery. Tomorrow is prep day. Both for Annabelle and for Mommy. We are believing that God's will WILL prevail (despite Mommy inserting her own opinion and having slight breakdowns like the other day about her surgery date… I'm over that now!) We are believing in health and healing for our little Annabelle, and a QUICK recovery from surgery.
THANK YOU for all your prayers and thoughts for our little girl. We appreciate it SO very much!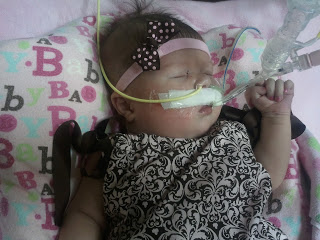 My sleeping beauty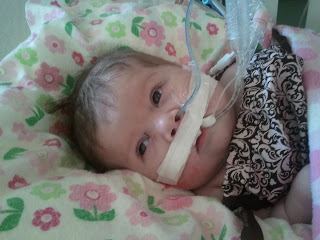 Minus a feeding tube. She wanted a break I guess:-)