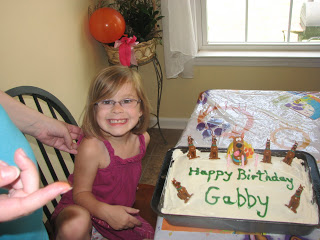 *sniffle*
My baby turned 4 this last weekend. How can it be??? Time FLYS!!!!
My Gabriella is so sweet. And stubborn. And smart. And sassy. And did I mention smart?
Seriously, I don't mean to brag, but the girl has a very high aptitude. She just turned four and has known her alphabet, as well as how to WRITE her alphabet, for a year now. She LOVES to color, and does an extraordinary job at it. She's in the lines 99% of the time and colors each item a different color. Her vocabulary is off the charts.
Please don't think her smarts come from anything that we are doing. In fact, I almost feel bad because we've "taught" her less than any of our other children. She's learned most of what she has by playing "learning" games or using the little fridge alphabet magnets, then sitting down to a piece of paper and practicing, on her own, how to write said letters.
She announced to use the other day that she wants to be a doctor when she grows up, and really? I wouldn't put it past her. Some of this is that she's been going to many Dr appointments with my hubby and I during this pregnancy, so I think she's a little in awe of them (although she's deathly afraid of male doctors… they're BOYS you know and BOYS are monsters… except Daddy, Grandpa, and her cousins of course… these are her words:-))
My sister bought her a doctor kit for her birthday, and while at first it was overriden by all the other many presents she got, she got into playing with it REAL fast. She had her doctor coat on and was giving shots, doing surgery, and writing prescriptions like a pro shortly after. It was SO very cute.
It got me thinking back to when I was a kid. For a long time I wanted to be a doctor myself, a pediatrician to be exact. Then I realized that I hate the site of blood, I want to throw up at the thought of needles, and I got woozy just dissecting a frog in high school.
So, I changed to wanting to be a teacher. For the 2nd or 3rd grade, probably because those were my favorite grades in school.
Um, yeah, considering I am severely lacking in the patience area and I have an unhealthy love of red pens, it's probably a good thing that I'm not teaching 20-30 students ever day.
So here I am, a struggling writer and a thriving Payroll Manager. I love words, numbers, and hate science.
Yes, it's probably a very good thing I'm not a pediatrician. It's amazing how God knows before we do what will "work" and what won't … sometimes his No's are VERY good things!
Discussion: What did YOU want to be when you were little??
Oh, and for fun, prior to wanting to be a doctor… Gabby had announced her plan to be a real life princess. 🙂
And yes, that's my prego belly peeking into the picture above:-) And yes, my strange, wonderful daughter is enthralled with Scooby-doo lately, so that is Scooby on her cake:-)