My baby is NINE-MONTHS OLD today!!!!!!
Some days I have to just pinch myself. It's been a heck-of-a-nine-months, let me tell you!
But there are GOOD things on the horizon!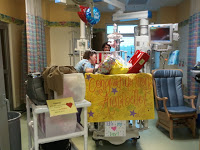 First, we made it to the floor!!! We moved up late Monday around 5 p.m. It was a whirlwind of a day, as was yesterday, as she got another PICC in yesterday morning (they have to take her down and give her anesthesia to get one… she is not an easy one to get a PICC into!)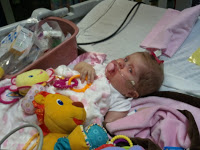 Second, we have a tentative "go home" date, which is EXCITING!!! I am not counting on the date though. There are still a lot of things that have to come together between now and then, and a few issues Annabelle is still having that must be resolved before then.
LUNGS: This is the biggest concern. She is still pretty junky much of the time and desats into the 80's sometimes (no more 75/85 sats for her… she needs to be >93 now!) They had to suction her out 3 times overnight, and have added some specific treatments to try and help clear her out. The good news is that her cough is progressively getting stronger, so this should help!
VOICE: She still has a weak cry though, so they have asked ENT to evaluate her. They just came in and said they are going to do a scope early this afternoon to evaluate her vocal chords. This will tell us what exactly is going on… if it's just swelling or if there is something damaged.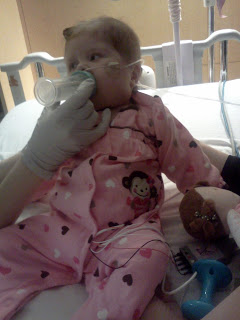 FOOD: This is a FUN ONE! I am SO SO SO SUPER excited I can hardly contain myself! Annabelle has pretty much NEVER eaten by mouth. She was feed through an NG tube (tube down her nose into her gut…) then an NJ tube (tube down nose into intestine) then finally a G-tube, tube directly into her stomach.
BUT!!!!!! Speech evaluated her again today, and Annabelle ATE with a BOTTLE! She ate 4cc's of milk… which is just a smidgen (one ounce equals 30cc's) but it's something! And when the therapist took the bottle from her mouth, she got mad and wanted it back! I LOVE IT! So… we are going to try some "food" this afternoon, just to taste it, and then hopefully have a swallow study done tomorrow or Friday.
TRAINING: Scott and I are spending a lot of time talking with nurses, giving meds, and going over all the things we'll need for "home." They will be teaching us how to listen to her heart with a stethoscope so we can count her heart beat, how to take her temp (think I can handle that one by now) and just generally how to take care of her.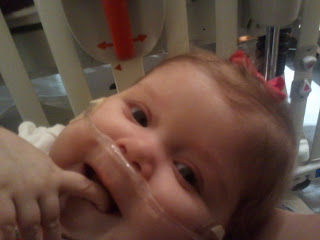 TRANSITION:
I'm kinda gonna miss the hospital. I know, it's weird. But it has been my home for 9 months. It's where my daughter's life has been saved. The people here have worked tirelessly to keep my baby safe and healthy, and I've become dependent upon it, upon them.
I'm so excited to go home, but it's a little scary and overwhelming too. Everyone tells me "You must be SO SO SO excited and ready to leave" and while I AM… I'm also nervous and trying not to feel guilty about not being as excited as everyone thinks I should be. (I know that doesn't make a lot of sense… but it's how I'm feeling!)
So while we ARE excited and want nothing more than to bring our little Annabelle home, we are doing this carefully and trying to make it the best transition possible. Your prayers to this end are GREATLY appreciated.
FUN TIMES:
Melissa (Anna Reese's mom) and I have gotten into a bit of a routine. We stop by each other rooms to see how things are going (I've missed that this week since we are upstairs!) and on Monday nights, we got watch a movie and eat pizza in the hospital theater with all the kiddos.
And every 3rd Tuesday of the month, we go to the hospital's pizza/bingo night! It's little things that we count on and make us smile, and give us a routine of sorts.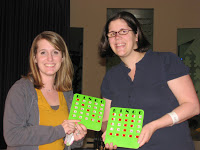 So… yesterday was our last pizza bingo night together. It was bittersweet, and we had them take a picture to commemorate the occasion! (I don't think I ever realized our great height difference until seeing that picture! ha!)
Anna Reese is also doing MUCH better by the way… so we are praying that this is Melissa's last pizza bingo night as well, although she still has quite a few step before home, so please keep them in your prayers!
A SPECIAL thanks to all the child life volunteers and Friend's of Children's hospital that put on these events. If you are looking for a way to volunteer, your local Children's hospital is a GREAT PLACE to do so. While I worked during the afternoon, a few times a week a volunteer would come in and just sit with Annabelle and play with her. It really is a HUGE thing, and while it's hard to be around sick children, it is the most rewarding thing I can think of!
Okay, so this is a LONG happy-birthday blog, my apologies!
And here is a Happy Birthday Picture of Annabelle!!