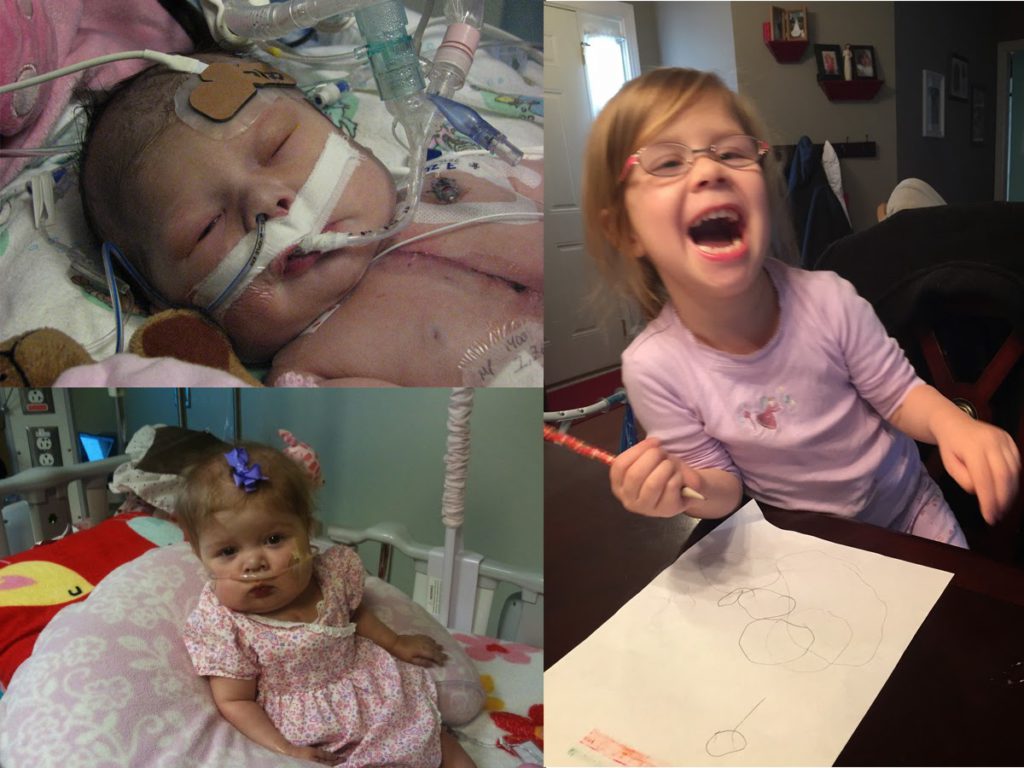 This is probably the most exciting and the most difficult post to write each year.
FOUR years ago today, our daughter received the most amazing gift. The gift of LIFE. Not of eternal life—we know that gift comes from JESUS as we just celebrated.
But no, a gift of life here on Earth, of extra time to dwell here with us, extra time for hugs and kisses and laughter and joy.
Four years ago, we got a call at about 4am telling us there might be a heart match. That our sweet little 8 month old, who had never been able to come home, who lay in a hospital bed, struggling to hold onto life each day, working SO hard for each little breath she breathed…. was going to have a chance to live. To thrive. To come HOME.
And I know that at that same time, some family was experiencing the most horrific loss, the loss of a child. They were being asked to make an unthinkable decision, to donate their child's organs to save others.
There are no words to adequately express my deep sorrow for what that family had to go through, but also my eternal gratitude for their choice amidst their pain.
In HONOR of today, of Annabelle and her fight, and of the heart that beats on within her, my request is a bit different.
Our family is SO excited to particulate in the CHD heart walk in Nashville this year. We've never gotten to particulate in a walk for heart research before, but we are INCREDIBLY honored to be able to walk WITH Annabelle and try to raise money for research. Funds for research for Congenital Heart Defects, which is the #1 cause of death in children, is very low in comparison to other childhood diseases, so our hope is that we can raise even a little bit to help the cause, so that maybe, someday, hearts can be made better, be made whole, without having to have a transplant.
Because while we are SO THANKFUL for Annabelle's heart, it comes at a price. She's at great risk for every contagious disease . She'll always be on immune suppression meds. She is at greater risk for cancer. Pesky things like the flu and chicken pox could easily be deadly for Annabelle. And she's always at risk of rejection, because her heart is not her own, and her body doesn't understand that and likes to fight against it.
That said, we'd LOVE to have you partner with us on our "heart walk" to help raise funds for research (supporting both the Children's Heart Foundation and Adult Congenital Heart Association).
Here is the link where you can donate in honor of Annabelle! http://events.congenitalheartwalk.org/goto/kristaforannabelle
To date, we've raised $275 as a team, and our goal is $1,000!
Seriously, even if it's just $5, that's $5 closer to our goal!!

ALSO! If you're local to the Nashville or surrounding area, we'd LOVE for you to join our team and walk with us if you can! The walk is in the morning on Saturday, May 16th!
I really can't think of ANYTHING more special to do on this day of celebrating the gift Annabelle received than to try and make a difference for those little ones to-come or who are still fighting.
SO Happy Heart-Birthday sweet Annabelle. You're so incredibly sweet and beautiful and… your Mommy loves you more than words could ever describe. I am so thankful for EACH day God has gifted you to us.


Love–


Mommy.
Blast from the Past Blog Posts (I spent part of yesterday reading through these—and tearing up—because wow… what memories!):
http://www.kristaphillips.com.customers.tigertech.net/posts/its-heart-day/
http://www.kristaphillips.com.customers.tigertech.net/posts/our-morning/
http://www.kristaphillips.com.customers.tigertech.net/posts/its-started/
http://www.kristaphillips.com.customers.tigertech.net/posts/they-are-finished/
http://www.kristaphillips.com.customers.tigertech.net/posts/post-op-day-1/
(look at those BLUE FINGERS that are now PINK!!!!