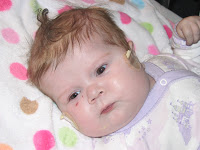 Someone said this the other day "God Keeps His Promises" relating to something totally different than Annabelle, but I latched onto it.
The truth is, God has really never PROMISED me Annabelle would be home for Christmas. He has, however, said he would give us the desire of our hearts, and that is one of mine. But an even DEEPER desire of my heart is for Annabelle to get better, stronger, and be safe.
The doctor came in this morning, and said that he was worried about sending Annabelle home.
They did a pre-home echo yesterday, and while it was unchanged, it still shows that she has significant AV valve regurge, which means her heart is having a hard time bearing the load of its job. Her liver is still significantly distended, which is another sign that her heart is having to work super hard.
While every baby's heart works overtime between the Norwood and the Glenn, Annabelle has always had a little harder time than a lot of babies, as evidenced by her 5 month hospital stay. At the beginning of rounds everyday, the attending starts out by saying, "Annabelle is our unbalanced AVSD with hypoplastic left heart who has had a prolonged complicated hospital stay." She then goes on to list all of her major complications…. multiple cardiac arrests, ECMO, etc. This a reminder daily of what she has come through!
Clinically, she is doing well, although she keeps having these "little" issues that are very concerning… the blood in her stool, the little fevers, etc. She hasn't had any more blood in her stool since night before last, and her fevers are only low-grade ones that come down within a few hours without the need for Tylenol (except her one big one the other day after we weaned her sedation.)
*sigh* To put it bluntly, the doctor is afraid to send her home. If we do come home, it will most likely be just a 2 day pass or something similar, say go home on Thursday or Friday and come back on Sunday or Monday. Not ideal… but it's Christmas. I'll take it!
We live about 45 minutes from the hospital, which while it is far, is better than those people who live 3 to 5 hours away, in which I wouldn't even consider going home. Personally, I've been very involved in Annabelle's care for 5 months now. I know her signs, I know what to look for, I've seen her at her very worst. I feel pretty okay about taking care of her, I really do. But I want this to be God's decision, not mine. God gift, not my greediness. God's will, not mine.
Right now, doctor says it will be a game day decision. We are going to talk to the surgeon today and make sure he's okay with the "plan" as well.
Your continued prayers are appreciated. I am still having a lot of faith that Annabelle will be home for Christmas. But at the same time, I'm placing my child and our Christmas miracle in the arms of Jesus, where they belong, and knowing that He will make everything work out for good.
Okay, thought I'd try something new…. Here is Annabelle playing with her toys and telling you all Merry Christmas!