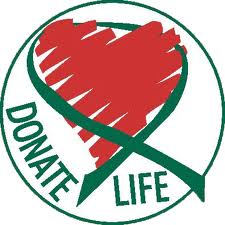 I think about them often, anyway, but this past week or so they have been on my heart specifically.
Some family out there is grieving this Thanksgiving over a sweet child missing at the dinner table. No turkey to cut up in tiny pieces, no sweet whining over what food they really don't want to eat, no throwing food on the floor, no slobbery kisses, no snuggling together on the couch with full bellies.
I have SO much to be thankful for, yet I know there is a family out there who probably doesn't feel very thankful right now.
And I don't blame them one bit.
Yet, this thanksgiving, *I* am beyond grateful to them, for thinking of others during their time of grief and allowing my child to live through the gift of their child's heart. My thanks to them knows no bounds.
My prayer this Thanksgiving is for peace for this family, for God to wrap his loving arms around them and let them experience joy through the pain. That they can enjoy the sweet memories of their child, yet be able to look forward to the life and joy that God wants to give them instead of backward at the pain they have endured, because life spent in the past is a hard place to live.
I know, I know, that's easy for me to say. My daughter lived. I never said it would be simple, however that's why we pray, hmm? Not ONLY for the hard things, but ESPECIALLY for the hard things. Only God can do something so amazing as to bring hope after loss, joy after heartache, peace after chaos.
When you sit at the dinner table tomorrow and count over the things you're thankful for, I'd love for you to remember something.


That life is precious, fleeting, and something oh-so-much to be thankful for. God never promises a tomorrow, just a today. Be thankful, my friends, for your today.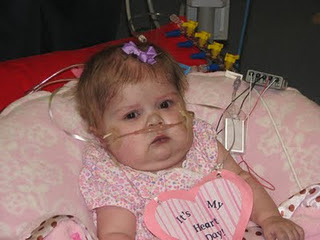 My blue, fluid-filled, very sick baby girl on heart day morning!
Not many people like to think of organ donation "in advance." There is a spot to fill out on your driver's license, but your child has no spot to sign. Most people want to plug their ears and say, 'la la la la la la" at the thought of organ donation for their children. NO ONE, including me, wants to contemplate their child dying young, or even at all.
But it is much easier to make a decision NOW, and to discuss it with your spouse, be in agreement on it.
I'll be honest. I never thought about it before Annabelle. I like to think I would have made the choice to donate, but I honestly don't know.
I, however, know now FOR SURE what I would choose.
Discussion: I won't ask if you've signed up to be a donor. That is a personal decision between you and your family. However, if you have questions about organ donation, or thoughts, or comments, I'd LOVE to hear them and to answer them as best I can. I know, an odd Thanksgiving topic, but appropriate for my family today!
And please keep Annabelle's donor family in your thoughts and prayers this holiday season, as well as all the heart babies that sit in hospitals, their families along with them.
Love and prayers to you all, my wonderful friends! Have a most happy, blessed, and THANKFUL Thanksgiving!