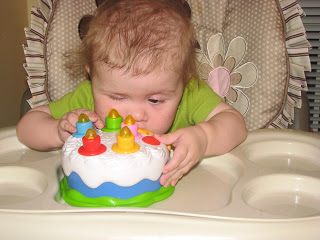 Annabelle inspecting the plastic birthday cake…
I've always been a bit of a multi-tasker. Working in a Corporate environment for so many years that increasingly demands (er, uh, requests) more to be done in less time has fanned that tendency in me. And while I have always viewed this as an asset, I'm also realizing that it's highly annoying at times.
Case in point:
Over the last two days, I've –
* Started to clean/organize Annabelle's room
* Torn apart my bedroom closet to organize it
* Started to organize all my pictures/scrapbook supplies
* Gotten out boxes of Scott and I's clothes to sort through
* Started to clean out the garage
* Begun to collect Annabelle's too-small winter clothes for the consignment shop
* Started a project for my former employer client that they want done by *gulp* next week
* Started editing an older book that is completed/unsold
* Started laundry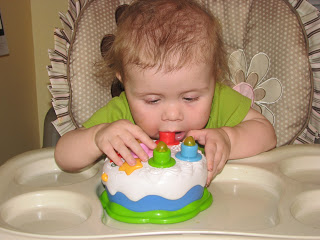 Now that she's confirmed that its not food… she eats it!
Notice all the "started"'s?
The only thing that has been COMPLETED in the last two days is the hanging of a coat rack that my father-in-law did for me today so I could organize the front entry way.
And the only reason that is done is that someone else did it for me!
I'd probably get more done if I worked on one thing at a time. Yet…my multitasking nature is also helpful at the same times. Any Momma of multiple children knows that it is a fine art to make dinner while helping one kid with homework and diffusing a fight between two others, all the while watching wheel of fortune and solving all the puzzles before the contestants.
Here is my goal: Tomorrow, I'm going to try and get ONE THING DONE. Okay, fine, maybe two. Actually, three… urgh, no TWO, Krista. But, really, I want to FINISH something completely. *stomp foot* I WILL finish something.
It feels good, though, to have the energy to work on things around the house again. I think that's why I started so many things, because I have a billion things I've been wanting to get done, but not a lot of time/energy with which to accomplish.
I guess, when you think about it, it IS better to get 20% done of ten things than to get 100% done of zero things…
And that, my friends, is justification at its finest!
Discussion: Are YOU a multitasker… or are you a "finish-what-I-started"er? If you are the later… can you come to my house and help???????
Annabelle Update: She's doing great! On oxygen only at night. Still has a junky cold but is handling it well. Isn't eating at ALL anymore though, so that is a frustrating step back. We put eating aside last week while I was sick, and I think between the "break" and her being clogged up, eating is not appealing to her. I do sit her down at her highchair 3 times a day though and attempt. And next monday we start feeding therapy, so I'm praying this helps as well!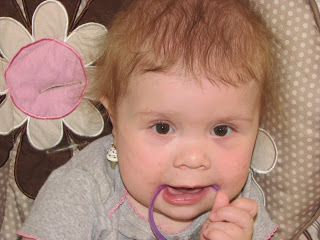 Big sister shared her bracelet and clip-on ice-cream earrings!
Annabelle is a sitting up fool now. She goes from laying down to sitting up in 2 seconds flat, and does it over and over and over. She LOVES having her cast off too. I predict crawling will be in our future in the next month or two!!