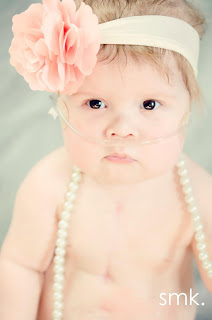 Busy, wonderful times!!!!
I LOVE THIS WEEK!!!
We only have ONE clinic visit… and ONE pt appointment. And the rest of the week is FREE for me to be at HOME and get things DONE.
I am beyond thrilled! I might actually try a *gasp* SCHEDULE!
Clinic visit was today. It went well, labs that I can see online look fabulous! Annabelle is still throwing up frequently though, so we are going to try and change her formula. We want to change to a "big girl" formula anyway, so we are going to have one that digests a little easier though. Will be a few days before we get the new formula though. PLEASE pray this works and offers Annabelle some relief! She is always super uncomfortable during feeds, and I can just see the misery on her poor baby face!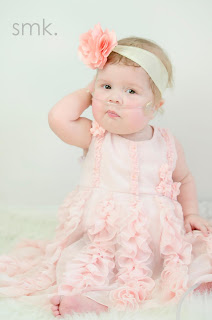 We also had Annabelle's one-year pictures taken today (only a month late!) THANKS, Kelly (my cousin-in-law) for taking them! You rock!
I don't have them all back yet, but she posted two on Facebook today, so thought I'd share them here! WIll share more of my favorites when I get them all back! Later this fall I hope to get family pictures taken… but this Momma has to shed a few pounds before a camera is allowed to aim at her! Slimfast, where for art thou?
Oh, and we are up to 70 votes on the parents.com nomination! Not that competitive me checks it or keeps track or ANYTHING like that… HA HA! THANK YOU all who voted, you rock:-) And if you didn't vote, well, you rock too! I promise!!!!
I just realized this week, that next monday is Labor Day. It's odd. Usually I would be ticking off the days. Not only because it is a "day off work" but because in my job, a day off meant big schedule changes so I was intimately aware of this well in advance.
So it was weird that a holiday snuck up on me! My in-laws are coming in this weekend, so we are all very excited to see them again!
Anyone else have fun labor day plans? We'll probably grill out, one of my FAV to do. (and for those of you planning on reminding me of my weight loss goal… hush. Well, actually, thank you, but still. Hush! *grin*)
OH! Another plan for this week. Annabelle got a wagon for her birthday… and we've yet to try it out! It's just been TOO hot. SO sometime this week, in the evening, we plan to get that thing out and take Annabelle on her FIRST WALK!
Pictures will obviously be proudly posted!