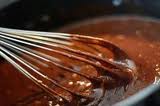 I've had a pretty decent run of "good" weeks. A not-so-good one was bound to come up sometime.
This week was that one.
I'm writing this Thursday night and preposting, as tomorrow is going to be crazy, so I'm using my weight from this morning.
Here is the damage:
THE WEIGH-IN
Krista's Numbers:
This week: +1 pound
Total Fat Friday loss: – 4 pounds
Total Weight loss: -18 pounds
Scott's Numbers:

This week: -3 pounds (includes last week)
Total Fat Friday loss: – 5 pounds
Total Weight loss: -34 pounds
THE FLIMSY EXCUSE
We all have our excuses. Reasons for gaining, or not losing. And many times they are REALLY REALLY good excuses.
But I'm reminding myself today that they really are just that. Flimsy excuses that I could have controlled if I wanted to.
So here is mine: My daughter had a birthday.
And it is against my cooking rules to not lick the bowl. And considering I made cupcakes for her slumber party on Friday, cake for her "family" birthday on Sunday, then brownies to take for school on Monday. That's a lot of licking. And a lot of sweet eating.
I was also out of the habit of "counting" my calories from the week before when I was sick. So while my intentions were great, I still need to get back into the habit.
And really,that's what it is about. Making yourself do something, regardless of your "want" and sticking to it.
I need to get a hold of this now. Because the holidays are coming up. And I'm SUPER excited about being able to actually be HOME during the holidays, and not working, and being able to COOK things. Previous years, I was lucky to get any baking done at all, and even then, it was rushed and NOT enjoyable.
But I'm determined to stick to my weightloss even through Thanksgiving and Christmas. I'm under no grand illusions that I'll lose massive weight. However I think I can at least lose a few times, and certainly maintain, if I watch my calories like I watch my pennies.
So now that I've given you my royal flimsy excuse… feel free to beat me up about it. I NEED IT.
And what about you all? How did YOU do this week??????? Please do share!!