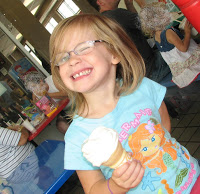 I failed this week. But things are looking up. After gorging and saying, "what the hay" the first part of the week, I tried to redeem myself with exercise the last two days. Unfortunately, from the last two weeks I'm up about 2 pounds as a result of my love affair with pre-Halloween candy and the McDonald's Monopoly game.
So, in honor of my failure, I give you:
TOP TEN REASONS TO LOSE WEIGHT
To make the little guy on the Wii shrink when I step on the scale instead of expand like a helium balloon.
To be able to breathe when I wear the pair of jeans 1 size smaller I have waiting for me in my dresser
So I can change these posts to "Skinny Friday" or at least "normal-sized Friday"
No more sucking in when people take pictures!
Being able to weigh anytime I want… instead of just in the morning, right before I shower, right after I pee, so I get the smallest weight possible (Don't tell me you all don't do this too!)
So I can watch biggest loser and be proud of the contestants, instead of green with envy.
No more kids looking at my wedding picture then at me and saying, "Mommy, how'd you get so big?" (I remind them that it's all their fault of course!)
No more prayer of repentance after I curse at the dressing room mirrors (okay, fine, I don't really swear, but I want to. I really really do!)
No more tummy-sucker-inners when wearing a nice dress. Seriously, they should be banned.
A serious one: To be healthy, and a good example for my kiddos. I don't aspire to be a size zero (or, to be realistic, even a size eight with these child bearing hips) but to have a healthy, normal body weight so my children don't think it's normal to grow up and be fat:-)
Discussion:
Do you have any reasons to add to the list? Let's motivate each other today! Those of you on the Fat Friday challenge… how'd you do this week???
Oh, and am I the only one addicted to McDonald's Monopoly game????
*sigh* Sorry. The spirit is willing but the body is so, so, so weak. Chicken Nugget anyone?