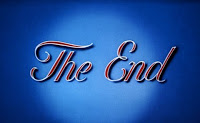 The ending to every book is crucial. I'm sorry, but it just is. You can write a stellar book, keep the reader spellbound the entire time, but if you mess up the ending, what does the reader remember?
That's right. A lousy ending.
But what makes a GOOD ending in a romance?
I mentioned in my "must haves" for romance novels that a happy ending is essential. For me, personally, as a reader and hopeless romantic, I'll even go one step beyond.
Hero and Heroine have to be TOGETHER at the end. Not always married, but pretty close!
There, I said it. Debate it if you will. Disagree with me or what not. But when I reach the last page of a "romance" novel, I better be 100% sure that these two people are going to end up together. No probably. No foreshadowing. No "I like you so let's see where things lead…." Blah, spit in the sand, throw book across the room. (So I'm a wee bit dramatic….)
Now, if you write suspense with layers of romance, that's a bit different. Same with women's fiction with a romantic element. If romance is secondary and you aren't branding the book as a romance, then do with it what you want–as long as you still have a happy ending.
I know I'm coming off highly opinionated on this one, but it's important. There's a trust issue that comes into play when a reader invests time to see how this romance will play out. If the book ends with the romance unresolved, the trust is broken.
By the way, a sequel that resolves it does not make things okay. The only time I lived with that was Francine River's Mark of the Lion series. But I gotta tell you, unless your first name is Francine and last name is Rivers and you end with the heroine being eaten by a lion… good luck with that:-)
DISCUSSION: Please feel free to disagree or agree. Am I the only one that feels this way? In ROMANCE novels (different than love stories) what do you think is essential for an ending?