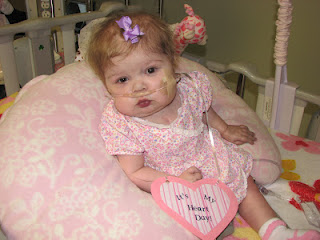 Heart Day… 4/9/2011. My very sick… blue… BEAUTIFUL heart warrior!
There's only one thing worse than a heart-child getting sick.
It's when mommy gets sick at the same time.
While Annabelle is finally mostly better (still battling lingering GI issues from her illness) Mommy has been battling her own fever crud since yesterday. Was better today enough to go to church, but still just wiped out energy wise.
Mommy + zero-energy = not good!
Thus, no post yesterday and this post at like, 7:30 pm… depending on how long it takes my sleepy fingers to type.
For my "awareness" post… I'm actually going to defer you to another blog.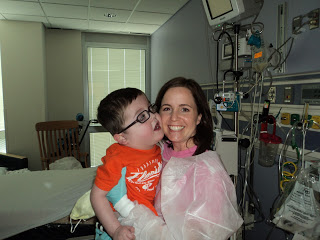 My heart-momma friend, Jennifer Hood, said it SO SO SO well that I couldn't even attempt to write it better. You may recall, I got the privilege of meeting her and her sweet David in Dallas while he was in the hospital in September. They are home now, but David is on palliative care. Holy cow, that is one SWEET little boy with the most fantastic smile that just lights up the room.
Jennifer's post is just so…. balanced. And speaks the heart of many heart mommas. We throw out statistics about how many more child deaths are caused by heart defects than all childhood cancer combined… and the funding for research and the "visibility" , quite honestly, pales in comparison. Before Annabelle was diagnosed… heart defects were not even something I ever feared or thought about. I vaguely had heard about kids having holes in their hearts fixed, but there was a general feeling of "oh, that's no big deal… kids are born with those all the time."
Um, they ARE born with them all the time. 1 in a 100, to be exact. But many of those are not simple fixes.
But in our passion to advocate for our heart kiddos, it's easy to sound bitter and one-sided…. and that isn't the purpose at all!
The goal is to spread awareness that like cancer and autism, heart defects and way too many other medical issues plague our kids, and they are ALL important to research, find causes, and find CURES. And as Jennifer pointed out, there are kids starving around the world and even in our own country…. and they need food and people to love them too. God calls us to take care of the least of these, and my prayer is that we all can reach into our hearts and find out what God is calling us to do.
Anyway… read Jennifer's post. It's awesome.
As is, by the way, her blog title. "Fumbling graciously toward Christ."
Yup, that describes me pretty aptly!