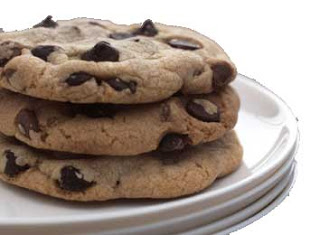 A few days ago (okay, probably close to a week now) I made chocolate chip cookies. If I do say so myself, they turned out pretty good. They were the perfect blend of sugary cookie goodness and milk chocolate chips. Add to it a tall glass of frothy milk… MMMMMMmmmMMM!
So, I made 3 batches of cookies… but we were leaving to go to my sister's house, so I put the remaining dough in the fridge to finish cooking the next day– about one dozen worth.
Well, the next few days didn't turn out as planned. I was busier than I'd originally thought I would be, and the cookies did not get made.
Tonight, my eldest daughter asked if I could make the rest of them. I told her maybe… but knew that I needed to make them now before they went bad.
Into the oven they went, and a few minutes later, the wonderful aroma of cookies baking filled my house. MMMMmmmMM!
The timer went off, I opened the oven door and my hopes plummeted. Instead of the beautifully rounded cookies that make you want to devour the whole batch in a gulp, I had lumps of dough that were brown on the bottom and gooey on the top. They did NOT look appetizing. I'd let them sit too long, and now they were no longer able to produce the mouth-watering look they once had.
Conversely, at Christmas time, I make my chocolate-sugar-covered-caramel-cookies as an annual tradition. These particular cookies though take a wee bit of time. You can't just stir up the dough, make little balls, and pop them into the oven.
No, after making the dough, you have to let them refrigerate for a minimum of 3 hours, otherwise you have the most gooey mess you've ever seen trying to get the caramel in the middle, and your outcome would not be pleasing (i.e. caramel would goo out everywhere)
Moral of the story: Everything has it's perfect timing. Sometimes you have to wait for the right timing. Other times, if you wait too long, you'll miss your opportunity for greatness. Oh, and other times, you should be on a diet and just not make cookies in the first place. *ahem*
To quote the Bible… Ecclesiastes 3: 1-8 (NAS):
"There is an appointed time for everything, and there is a time for every event under heaven– A time to give birth, and a time to die. A time to plant, and a time to uproot what is planted. A time to kill, and a time to heal. A time to tear down, and a time to build up. A time to weep, and a time to laugh. A time to mourn, and a time to dance. A time to throw stones, and a time to gather stones. A time to embrace, and a time to shun embracing. A time to search, and a time to give up as lost. A time to keep, and a time to throw away. A time to tear apart, and a time to sew together. A time to be silent, and a time to speak. A time to love, and a time to hate. A time for war, and a time for peace."
So… follow the directions. For us Christians, that would be the Bible and God's leading.
Discussion: Anyone else struggle with trying to make your timing, God's timing? Please tell me I'm not the only one! And I stress, it goes both ways. Sometimes I hold off because of fear… when God is calling me forward. (Think Israelites and the promised land…. Seriously, I do NOT want to wander for 40 years, y'all!)