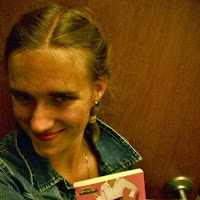 Jessica from IL with Sandwich!
My first book has officially "released." (I know, I know, I've been saying for months, this is no surprise!!!)
I now have…
wait for it…
READERS.
*gulp* It's an exciting yet humbling experience as an author to know that "people" are reading the book I poured much of my blood, sweat, heart, and yes, even tears into.
Since "release" day, I've spent a ridiculous number of hours pouring myself into trying to figure out ways to get my book into the hands of readers.
Without readers, an author is, well, broke for one thing, HA HA HA! But really, for me, I don't write for myself. I write for Jesus, and pray that those who read my novels will be encouraged and challenged and entertained. Readers are key to that equation.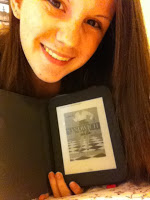 @caitvictoria21 via twitter!
So today… I celebrate YOU, the reader!!!
A few things you, my reader, have blessed me by saying about Sandwich in reviews…
"The book is quirky and throws a few curve balls that I wasn't expecting"
"I was expecting to like it, but it actually surprised me JUST how much I grew to love the story and characters!"
"
Unlikeable characters, amateur writing, unrealistic conversations,
awkward Christian talk just thrown in makes a painful read and waste of
my money!" (Krista note: hey, it keeps me humble!! My book is not for everyone.)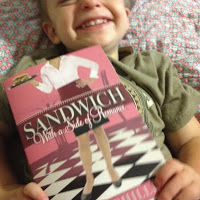 Simon likes it!!!
"This is a delightful Christian romantic comedy with just the right
amount of angst to leave you feeling you have read a story with meaning"
"A great romantic love story that shows how much God loves us and wants to work all things together for our good!"
Some authors don't read reviews to protect themselves, both from big heads and big blows. I'm not one of those. I enjoy knowing what people liked about my book. And it IS helpful to hear the constructive criticism as well. There were quite a few GOOD reviews that noted about a particular scene I left out of the book. I'd left it out on purpose, but looking back, I can totally see what they are talking about. No writer is perfect. We ALL have ways we can improve. And on the flip side, it's nice to know what people are enjoying so I can make sure I "keep it up" in future books!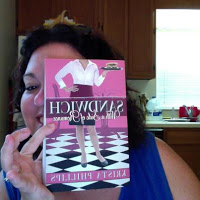 AJ… reading a backwards version, HA!
Now… what's a celebration without a few door prizes, hmm?
To celebrate YOU, and in a nod to the upcoming holiday season, I'm giving away….
FIVE… count them FIVE Sandwich, with a Side of Romance books. These will be my own personal copies (vs ones sent from the publisher as all the previous giveaways on other blogs have been) that will include bookmarks and will be autographed be the author. *grin*
And as a GRAND prize…
Of course, it'll be sandwich themed to include…
– A BIG jar of Nutella
– A $25 Subway giftcard
– A Sandwich rubbermaid container
– A SIGNED copy of my friend Kathy Harris's book The Road to Mercy
– A SIGNED copy of Sandwich, with a Side of Romance
In total it's a $75+ value!
*Note* Since to enter you probably already HAVE a copy
of Sandwich… this would make a FUN Christmas present to someone
special! Or, if you just want an autographed copy, that's cool too!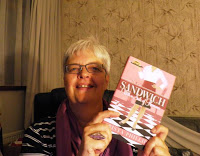 Riete…in the Netherlands!
How to enter
I'm trying something NEW! I've added something called a RAFFLECOPTOR to manage the giveaway.
You'll have THREE ways to get entries, and the rafflecopter will help guide you through!!!
HELP! I haven't read Sandwich yet!
Yes, this giveaway is for Sandwich readers (one of the requirements for entry is to tell your favorite scene/line from Sandwich!) BUT!!! You have almost TWO WEEKS to enter, so if you haven't gotten a chance to read it yet, now's a fabulous time! You can enter up until end of day, Saturday, November 24th.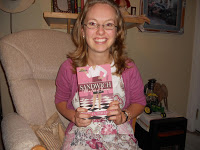 Alleycat Casey approved!

You can get a copy on Amazon, CBD.com, BN.com, or at many local retailers. (I know most Lifeway's have them… the one in Franklin, TN has 15 of them… and most of them I've input bookmarks in! I, uh, might or might not go there weekly to count them… *ahem*)
OR... another GREAT resource (as I know money is tight for a lot of us) is your local library! MANY libraries are carrying Sandwich, so that's a great option for you as well. If they don't carry it, ask them to! Since the book was reviewed in the Library Journal, most libraries either already carry it or have no problem ordering it in.
And finally….
THANK YOU, dear reader, for allowing me to share my story with you!
Lifting my glass of sparkling grape juice to you, hoping for many more in the future, and praying for God to use each word for HIS glory.