Annabelle did a great job during her cath! No real issues to speak of.
They did find that her aorta at one point was narrowed a little, so they had to do a balloon to even it out. They hope that ballooning it helps the pressures in her heart a little (and potentially helps the leaky valve, although that is a big maybe.)
What they found:
Her pressures are just a little higher than what they would like when they do the Glenn , but not so much higher that it would stop them from doing it. They like it to be 15 or under… pressures were between 16-18. This is similar to her last cath when they measured 17.
Her leaky valve was a little less leaky than it looks on the echo. This is a good thing, although it is still significantly leaking.
So overall, there were no surprising things… good OR bad.
The official plan still needs to be okayed by the surgeon, but tentatively we plan to go HOME!!!!!! very soon… and come back in the spring (past RSV season) to have the Glenn. There is still talk about a valve repair, but since the cath showed that it was a little better, we might be able to hold off on this until the Glenn too.
There is always the possibility that we have to come back earlier for the Glenn, but for now, we are home bound! Not 100% sure the date… but I THINK I know when. Needless to say, when we are home, you will see a very excited blog post from me!
Oh… and I guess I should say too…
HAPPY NEW YEAR!
Wow, I just realized that my baby was born in Summer of 2010, and officially will not come home until 2011. I guess that will just be a good way to start off the New Year, Hmm??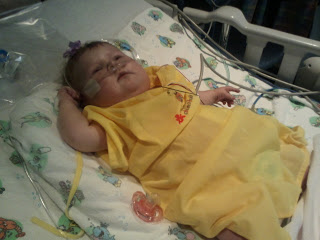 Right after her cath… she's alert, but isn't pleased about the yellow hospital gown. She says yellow not her color:-)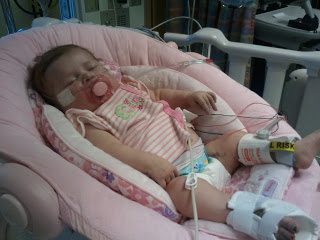 Ahhh, pretty in pink this morning. She is feeling MUCH better. Ran a little warm last night, with bright pink flushed, cheeks, but she's cooled down and is resting nicely!