It's been… a good day!
Besides her sleeping, we stayed on Annabelle's schedule well! All meds on time and accurate.
She did decide that 5:00 this morning was a great time to wake up. Mommy wasn't so thrilled about this as Momma hadn't gone to bed until after midnight and had gotten up at 4 to put more feeds in Annabelle's feed pump.
Thankfully, come 8 a.m., Daddy got up (how come Men can always sleep through EVERYTHING?) and took care of Annabelle so Mommy could go back to sleep.
Three hours later, I woke up! It was the first time I felt half-way rested in a good while, and definitely since being home!
But the COOL news for today is…
Annabelle ate a few bits of baby carrots!
I know… she's 11 months so this should NOT be such a big step, but it is!
In the past, she's gagged and wretched when put even put the spoon by her lips. She still shuttered and visibly didn't like it… but she swallowed and NO gagging! TWICE!
There was so much on her chin, I kinda was unsure if she really really swallowed or if she just looked like she did.
But… a little later, I was switching her extension on her Gtube and accidently left the new one open… and guess what leaked all over Mommy's shirt? You guessed it. CARROTS! And a good bit of them too! Messy… but I was SO excited to know that she actually got a bit of them in her!
Can we all say PROGRESS???!!!???
Less runny poop today (lovely, descriptive post today, I know…who wants to go eat some carrots after this???) but her bottom is still pretty raw. It seems to be getting just a little better though.
Clinic visit tomorrow. I'm confident that she's going to do GREAT! Need to follow up with them about PT. She desperately needs it. I know I can do it myself, but her muscles are so weak… and she still hurts some from surgery, and I just feel SO inadequate in it! I'm so afraid I'm going to push her too hard (I'm usually the "buck-up and just do it" kinda Mom) that I think sometimes I don't push her enough.
Lacy is doing better! Her fever is gone, so YEAH for that! And only FIVE more days 'till I get to see ALL my girls again!!! I am SO SO SO SO excited!!!!!!! I am SO ready to give all three of them some MAJOR BIG hugs! And I am ready to tackle the job of settling into our new "normal" too. It will take a while, and there will, I'm sure, be some kinks, but we're ready to face it!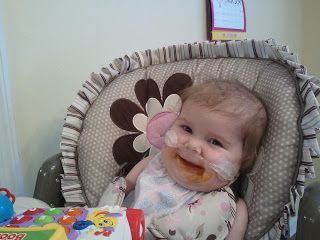 To prove to you that she ate her carrots and didn't mind it too badly!!!!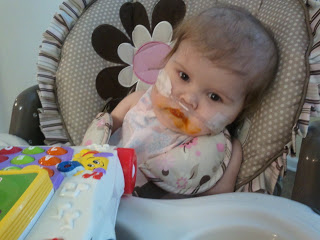 But lest you think she liked it TOO much….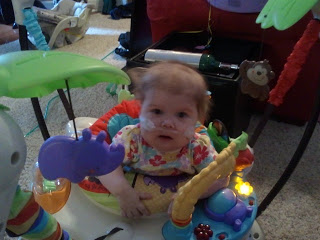 First time in the jumperoo since this most recent surgery. She only lasted about 10 minutes then was REALLY fussy. I thought maybe it was just too soon since surgery and it was hurting her, but when I got her out… yeah, she'd pooped. ALL over jumperoo… and subsequently ALL over Mom.
But ya know what? Poop happens. And I am SO SO SO SO glad to deal with it… AT HOME!!!!