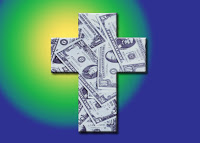 In my last post, we talked about why we write. You all had some great answers… but I noticed that NONE of you said you write in order to make money. So, I conclude from this that you will all donate all profits from any books you sell to your charity of choice… How sweet of you!!!
*Grin* I know there are probably authors out there who do that, which is awesome, but the reality is, we all look forward our writing actually culminating in a paycheck SOMEDAY.
But then, how do we mesh the "business" that is the publishing industry with these great, noble dreams we have to make a difference? Ministry isn't a competition or a way to make money, right? It shouldn't be all about money, right? If God is truly calling us to do this noble and good thing, why does it feel like our hands are tied by the constraints of the system?
At my very first ACFW conference, I was sitting at the banquet next to a lady who was wearing a fellow "first timer" badge. I asked her how the conference went for her, and she wasn't too thrilled, I have to tell you.
Her complaint was that everyone seemed "in it for the money." A response from an agent was, "I don't think I can sell this, because there is not a big market for this." I have no idea what genre the woman wrote in, but my heart went out to her. She wanted to be obedient and use her talent for God, but the pesky business of making money got in the way.
Many first timers come to conferences, especially christian conferences,

expecting it to be 100% on how to use your writing for God. Instead, they are about how to write better so you can get published, with a dash of ministry thrown in.
Geez, Louise! Us Christians are cut-throat aren't we! But the thing is, even Christians need to make money. There. I said it. (Watching for lightning to fall from the sky…)
If all Christians went into ministry and lived on the support of others (example of the wonderful, wonderful work of missionaries and full-time pastors) then… well… who would support us? The world is not going to fund our desire to spread the gospel to, um, them. As much as I believe that God CAN and WILL provide for us (the Bible says so very specifically) I just don't think He's in the business of counterfeiting money for his followers. (Although he does send money via Western Union in one of my novels… long story, you'll have to read it someday!)
Christians need to make money. We need Christian businessmen and women, not only to make money, but to be a light to the business world. Just like we need politicians, teachers, stay-at-home moms, nurses, doctors, vets, military personnel, who are Christians.
So, instead of lamenting against the system, we need to understand the system and appreciate it. If you can achieve your goal by printing off copies of your book and distributing it to church members, family, friends, people you meet in the grocery store, then by all means, skip the traditional publishing scene. You don't need it.
But if your goal requires your book to be available to the masses, and you want to be able to make a career of writing (be it full-time or part-time,) then prayerfully follow the steps (which are subject to opinion) for traditional publishing. Just know that God is bigger than all the "rules" and be obedient to HIM!
Just don't begrudge publishers/agents/editors their paycheck. They really DO deserve it too!
Discussion: Do you have frustrations with the "business" side of publishing? Does it feel like it gets in the way of your true writing goals? If so, how do you overcome it?