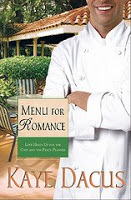 I don't claim to be a "book reviewer" on my blog… because I like to talk too much to just review books.
BUT! I do like giving my recommendations and opinions on books I like!
Today, I bring you Menu for Romance by Kaye Dacus, a friend of mine and president of our local Middle TN Christian Writer's group. (I'm treasurer… which means I get to count our money! LOL!)
Anyway, onto my stellar review:
The chef and the party planner each seek the kind of love that requires no reservations.
Cater to your craving for fabulous fictional fare with Menu for Romance, where a party planner finds herself torn between the contractor and the cook. After eight years of unrequited love, Meredith Guidry makes a New Year's resolution to find someone new and end her single status before the year's over. And when she meets a handsome contractor on New Year's Day, it seems like her prayers have been answered. Executive Chef Major O'Hara has forsworn relationships, knowing he could never saddle the woman he loves with a family situation like his. But when it seems he's about to lose Meredith Guidry to another man, he realizes he must concoct a menu for romance to win her back.
Menu for Romance is the second on the Brides of Bonneterre series. (The first was Stand-In groom, and you can find my review of that here.)
My thoughts: I loved getting to know Major and Meredith more! I'm a HUGE family girl, so Meridith's struggles with her family were near and dear to my heart, and my heart went out to poor Major struggling with his mother as well. The book will make you smile, sniffle, and go awwww at the end. The three key ingredients to a contemporary romance novel!
I give a whole-hearted two thumbs up!
((some of you have asked for recommendations for good contemporary romances… here is one! Look for more in coming weeks!))
**UPDATE**
Kaye has so graciously offered a FREE autographed copy of her book, Menu for Romance. So PLEASE leave a comment and we'll draw a winner on Saturday. Happy commenting!