I sit here tonight… a very blessed woman.
I have a husband who loves me.
I have four beautiful daughters whom I adore.
I have parents who showed me Jesus when I was young, and pointed me toward the Light.
I have 2 big sisters who laugh and cry with me, and take care of me. (HA!)
I have a little brother who, even though he can be a dweeb at times, also has a sweet sweet heart.
I have a job that helps pay the bills, is flexible with my current schedule, and provides health insurance.
I have money to buy food.
I have wonderful people who are helping BRING food to our house a few times a week too!
I have my health.
I have in-laws who have dropped everything to come and help us when needed.
I have friends who support me, uplift me, pray for me.
I have a daughter with half of a heart who is stable, sleeping, and alive.
And even if all those things were taken from me tomorrow… I would still have God.
And God is enough.
I look over at my Annabelle tonight, asleep with her cute PJ's on, tucked under the blanket with her dolly, and I'm overwhelmed. With love. With hope. And to be honest, a little fear.
Downstairs tonight, there is a little both who is receiving his heart. He has been waiting a very, very long time for it. Please, pray for him this evening, that the transplant goes well, that he recovers quickly, and that he can finally go home again. I first met his mom about a month or so after Annabelle was born, and when she told me they'd been here since May, waiting for a heart, my jaw dropped. MAY??? That was like over 3 months. I couldn't fathom being in the hospital that long. Now, we are going on six months ourselves, and it's been eight months for little Nathan.
To see a little of Nathan's story, here is a little video on Vanderbilt's website. It highlights the need to make up your mind about organ donation BEFORE something happens. Whether it's discussing it with your family for yourself, or with your spouse about your children… it's important.
That may seem yucky. And it is NOT a pleasant topic, I'll give you that. And my heart is breaking in two right now, knowing that another family has said goodbye to their child today. Please add them, whoever they may be, to your prayers as well.
But I look at my three healthy children, at myself and my husband, and know that we don't live in a bubble. Accidents happen. It's a choice that I never really thought about before, but especially now, would make in a heartbeat. If our loss could save lives, well, it doesn't make the loss easier, or "worth" it, but it does bring something good out of something painful.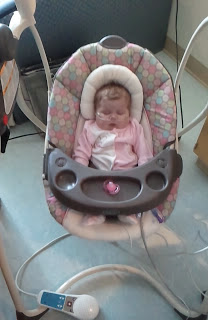 Annabelle is sleeping peacefully tonight. We got our PICC line in on Tuesday, and spent last night in the ICU just to monitor her.
She has been fever free for SIX WHOLE DAYS now! Which is pretty amazing since we really didn't know what caused the fevers in the first place and we'd been having them close to daily since December 14th.
We are finalizing all the details of listing for transplant, getting the last of the blood-work in, then sending off for pre-approval from insurance. Our hope is to get officially on the "list" on Friday or Monday.
I gotta tell you, I'm not a patient person. I'm not allowing myself to think of the "wait" while we are on the list. I get overwhelmed, shaky, and downright scared at the thought (which tells you that I'm not doing a great job at always not thinking about it…)
So I'm trying to do like I've done for the last six months.
(pretend I'm drawing an imaginary box…) I'm living in my 24 hour window. I do what needs to be done, today, with God's strength, and trust him with the tomorrows.
I've quoted this old song probably more than once in the past year, but I'll quote it again because it is my favorite and is exactly what I need to remember on this revised journey of ours.
I KNOW WHO HOLDS TOMORROW
I don't know about tomorrow;
I just live from day to day.
I don't borrow from its sunshine
For its skies may turn to gray.
I don't worry o'er the future,
For I know what Jesus said.
And today I'll walk beside Him,
For He knows what lies ahead.
Many things about tomorrow
I don't seem to understand
But I know who holds tomorrow
And I know who holds my hand.
Every step is getting brighter
As the golden stairs I climb;
Every burden's getting lighter,
Every cloud is silver-lined.
There the sun is always shining,
There no tear will dim the eye;
At the ending of the rainbow
Where the mountains touch the sky.
I don't know about tomorrow;
It may bring me poverty.
But the one who feeds the sparrow,
Is the one who stands by me.
And the path that is my portion
May be through the flame or flood;
But His presence goes before me
And I'm covered with His blood.
I pray you walk in Jesus love today, and know His peace, and trust Him with your tomorrows.