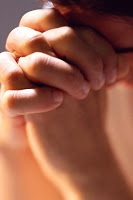 Some of you who follow me on Facebook or Twitter know that my kiddos were sick on Monday. All three of them by days end were running 102+ fevers, and I myself was at 100 and had a splitting headache. Two of my Three kids were coughing, so the presumption was that the flu bug had hit us.
This morning, when I left, my eldest daughter had a temp of 104, and the other two were asleep. I doped up the one on medicine, then went to work, praying that Jesus would make my kiddos better and would give my husband patience to make it through the day.
When I called a few hours later, Scott said that no child registered a fever, and only my oldest one was really acting like she felt bad. *Phew* I thought… must not have been the flu, just a little bug, because the flu hangs on there for a few days.
On my way home, I was thinking again about how weird it was that they seemed to be getting better so fast.
Then it hit me.
Well, more than likely, God slapped me over the head and said, "Um, Hello? Over here?"
Krista: "Yes God?"
God: "If you recall, you prayed for your children to get better, right?"
Krista: "Yes, I did. I thought they had the flu, but evidently it was just a little 24 hour bug or something. Thanks anyway, though."
God glared at me.
Krista: "What?"
God glared some more.
Krista: "Ohhhhhhhhhhh. I get it."
God: "Do you?"
Krista: "I prayed… people I asked to pray did… and… you answered?"
God: "Darn tootin', I answered. Why is it, whenever someone's prayers get answered, they think it was of their own strength… or fate… or nature… or a mistake? They tell me, 'Never mind, didn't need you after all.'"
I realized after my conversation with God how much I do this. I pray because I'm supposed to, I really WANT God to answer my prayers, but in the back of my mind I don't think that I expect something big to happen. Puts "Oh ye of little faith" into a whole new perspective for me.
Ugh, I'm so glad God has patience!
Bringing it back to writing
I honestly try to give God the glory in my own writing. I KNOW I'm not good enough, that I can't come up with ideas, and find the time to write. This whole thing is so much bigger than I am. If I succeed, it will be a TOTAL God thing.
But I'm constantly reminding myself of that, because I know how EASY it is to take credit for the good things that happened. It's in our nature.
Discussion:
How do YOU keep everything into perspective? Am I the only one that gets reprimanded by God when He answers prayer and we realize it too late?