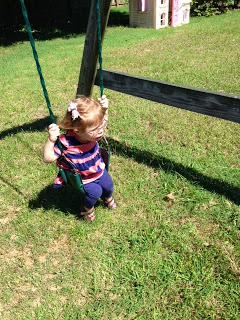 FALL IS HERE!!! We LOVE swinging!
It's been a while since I've given a good plain ol' Annabelle update!
I still need to give a CONFERENCE update… but I've spent the last week recovering from conference and trying to catch up, so I still haven't gotten all my pictures downloaded yet! SHAME on me!
BUT!!!!
We have a GREAT news for sweet Annabelle.
We had her 3 month cardiology visit a few weeks ago and it was GREAT! Her heart looked good, her labs looked good, and she got an overall thumbs up from the transplant team. More labs in 6 weeks, echo in 3 months.
We do have to get her heart cath/biopsy scheduled for April. Mommy is BIG gulping at that and trying not to think about it!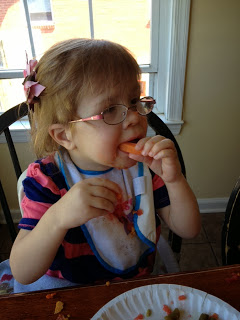 Carrot sticks… YUM!
Our BIGGEST news is Annabelle's EATING! We had a swallow study done on Wednesday, but she didn't want to cooperate. But from they could see, she was doing fantastic at protecting her airway and was having good swallows, so this is GREAT news.
And just in the last week, we've been making HUGE HUGE HUGE steps toward eating.
It's been such a slow progression, it's hard to pinpoint a turning point for her, but we are definitely "eating" food now! We were crunching and spitting it out for a VERY long time, but I'd started to notice that not as much was coming out, progressively more each time.
And this morning, I gave her just some cereal with the girls (captain crunch with berries… oh-so-nutritious I know!) and she was LOVING crunching up the berries. Scott and I sat and watching her… and noticed that NOTHING was coming out. She swallowed them ALL!!
We're also trying to add new foods as we're able to see how she does. Yesterday we tried raw carrot sticks as she's been doing well chewing apple slices, and she LOVED to crunch them. Now, they don't dissolve like crunch berries do, so it's much more work to swallow, but she was mutilating them with her teeth really good! Mommy was SO SO SO proud!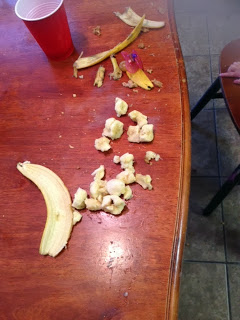 I did not give her this Banana.
Nor did I peel it. Annabelle helped herself…
We still are not drinking much volume though, and we are still very particular about WHAT we swallow, but these are huge steps our sweet girl is making toward eating, and Mommy LOVES it. Please continue to pray with us that she starts gobbling up that food and we can start WEANING off her tube feeds soon!! My hope/prayer/goal is to be OFF tube feeds and only be doing per-tube meds by the time she is 4. I have no clue if this is realistic or ambitious… but it's my goal!
MEDS via mouth is going to be a whole different issue…
Isn't amazing how we can take such simple things like the ability to EAT and take medicine to keep us well for granted??? My sweet Annabelle has certainly taught me to be thankful for the most simplest of task, that is for sure!