As many of you know, ANNABELLE is here!
She decided to surprise us a little early, which is okay, but left mommy a little (okay a lot) unprepared, which is why I was here without my laptop and way to update people. THANKS Valerie for sharing the update for me in the comments the other day!
First, my water kinda broke on Monday night. But, being the 4th time mother I am, I didn't want to go to the hospital until I was sure. So… I had contractions all night, had no sleep, went to work on Tuesday, and about 8:30 called the doctor. Went there about 9:30 and they confirmed that my water had broken and I needed to get myself to the hospital stat.
However, Annabelle decided she wasn't in any hurry, so by 9:00 that night, I was still in "early" labor with little progress. However, things kicked in about 2 hours later and she was born in about 15 minutes.
Her official time of birth was 11:17 p.m. on Tuesday, July 20th. She weighed 7lb 4oz and was 20 1/2 inches long.
Unfortunately, she had some difficulties in the delivery room with breathing so I got to kiss her cheek for about 15 seconds before they wisked her away. It just about broke my Mommy heart!
THANKFULLY! Her breathing stabelized and she did so much better that she didn't even need a breathing tube, which I'd been told before was almost a definite for her.
I've only gotten to hold her once. On Wednesday evening, Scott and I got to give her a mini bath, and I got to hold her while they changed out her bedding. Oh my goodness, I SO SO needed to hold my girl. It was awkward, because she's hooked up to so many things, but both Annabelle and I breathed a HUGE sigh of relief at getting to be together.
Right now, she's in this bubble thing to actually LIMIT her Oxygen. (Long story, but if she gets too much, which she was, fluid will build up in her lungs, so they have her atmosphere with extra nitrogen so she doesn't get too much Oxygen)
Biggest news and prayer for today:
As of this moment, she is scheduled for her surgery TODAY!! That could change, since she's the second surgery today, and if the first one goes too long or not right, it might get delayed.
But please please please be praying specificially this afternoon that everything will go PERFECTLY and that God would guide the doctor's hands. A little prayer for Scott and I as we wait for news about our little one would be great too!
Now, I'll leave you with some pictures of my cute little love!
Annabelle Lillian Faith Phillips: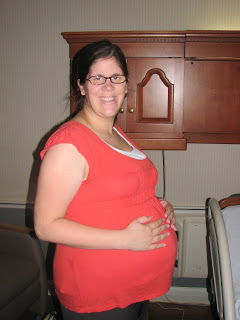 She's on her way!! (Tuesday about 11:00 a.m.)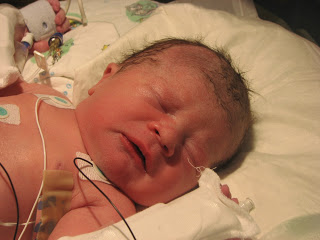 Miss chubby cheeks Annabelle!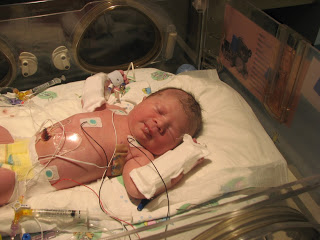 The white things on her arms they called "No-No's" 🙂 They were so she doesn't mess with her IV's.
We think she's gonna have curly hair:-)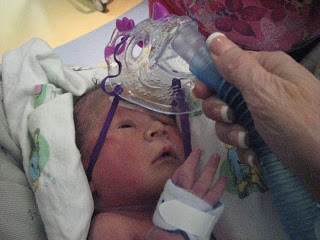 Peekaboo, Annabelle!!!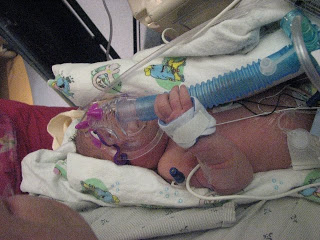 Her "dragon" mask:-) This allowed me to hold her so even though she hated it, it was worth it!