What's going on with the Phillips' family you ask?
Well…
Gabby is putting on a little weight….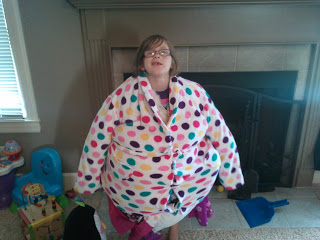 Front view… she is making "ohhh, I'm so fat" face on purpose to be silly! This was my children's entertainment for the day yesterday…. We're ready for school to start back, please!!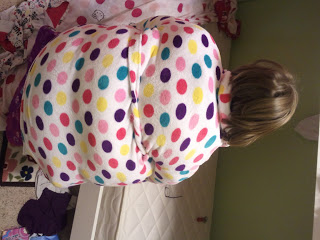 Back view… look at them rolls! (unsure why the sheet is off her bed… crazy kids!)
and Annabelle is graduated to a big-girl booster seat at the table vs her take-up-too-much-room highchair…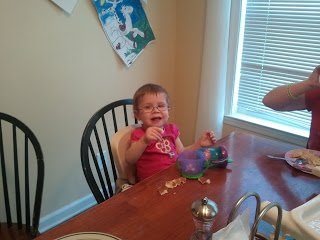 Look at me!!!! BIG GIRL right here!
And someone is getting a LOUD MOUTH on her… AND she's learning peek-a-boo… AND she's kinda sorta learning where her nose is although she half the time gets her chin…
Discussion: Any fun new developments in your neck of the woods? Firsts? Crazy kid stories? Or am I the only one who has kids dress in 30 layers of clothes then strap pillows to themselves and put a bathrobe over top? (I may or may not have helped with the bathrobe and used big black clips to hold it together…. I mean… Me? Help in such craziness??? NEVER! *wink*)