Okay, I know it's Tuesday, and I'm not supposed to blog until Wednesday on my new fancy schedule.
BUT I CAN'T HELP IT!
I was sitting on the couch and Annabelle was laying on the floor, she'd been rolling around on the blanket I laid out for her. I'd been really excited today, as she was rolling even with her cast, and lifting her leg good and everything. And she was rolling multiple times to try and "get" a toy.
This Momma was very proud.
BUT! I looked a way for a minute, and when I looked back…
ANNABELLE WAS SITTING UP!!!!!!!!!!
Somehow she'd sat up ALL BY HERSELF for the FIRST TIME!!!!!
I seriously think I might cry. We've worked SO SO SO hard for this and I was beginning to wonder if it would ever happen. I NEVER thought it would with her cast, but now I wonder if having the hard cast on helped her get a little leverage to sit up.
dfl;ajsdf;lajdf;oajdfa
Yes, I'm excited!!!!!!!
Anyway, back to regularly scheduled blogging!
YEAH ANNABELLE!!!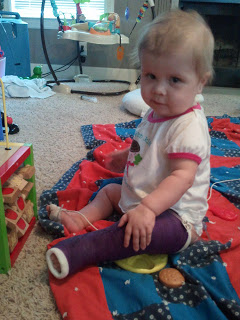 Look! I did it all by myself!!!!