What have the princesses have been up to?
Princess Karalynn: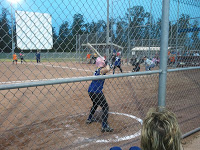 Karalynn warming up!
Princess K has been busy settling in to her first year as a middle schooler! Lots of homework and lots more responsibility. She's also finishing up softball season which is fun… but honestly, Mommy will be happy when it's over so it's one less thing to take up our evenings! It is only Karalynn's 2nd time playing, but she enjoys it and that's what matters.
She's having fun in her theater class at school, and is just too smart for her britches at times:-) LOVE that girl!!!
Princess Lacy:
While Karalynn enjoys softball, Lacy is my softball All-star. she's played since Tball, and can I just tell you? That girl can hit a ball! I've been SO SO SO proud of her this season. Past seasons she was decent, but had a lot of work to do on fielding the ball and her hitting.


But something must have clicked this season because she's doing 100% better! She has a fabulous arm and is an expert 3rd baseman because she can get that ball from 3rd to 1st… fairly accurately and fast, better than most kids. Yeah, I'm not bragging or anything….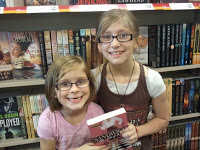 They were so excited to pose with Sandwich!
Lacy's current struggle is with Math, and I KNOW she would appreciate your prayers. Some people's brains are wired really well for math, and others have to work at it a little more. Well, she has to work at a little more, which is totally fine, but she's surrounded by a Mommy and big/little sister who LOVE math and can do it easily, so I think it gets a little (read LOT) disconcerting at times. We're working on it though, and I have full confidence in my little girl that she'll "get" it soon!
Princess Gabby:
Oh, my sweet Gabby! I'm sorry to say, I've yet to put her in an "extra" activity… mostly because it's not a simple task to fit them into our schedule. And also because what she WANTS to do is ballet… but it costs way more than my budget can handle! Gabby truly is my little princess though. She LOVES to dress up and would rather wear a dress or skirt than jeans any day of the week! She's doing FABULOUS in 1st grade this year. She took her beginning of the year reading test and scored almost what she should at the end of the year.
We're working on some issues though, mostly trying to help get over the "I'm a little sister so I can act like a baby and get everyone to do everything for me and cry over everything to get my way" syndrome. It's an illness that Mommy may or may not lose all her hair from pulling it out while trying to deal with said sweet princess.
But goodness… I still love her like crazy! She'll always be my baby:-)
Princess Annabelle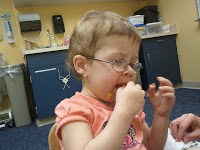 Goldfish Eater!!!!
Annabelle, Annabelle, Annabelle.

Annabelle likes to keep her momma on her toes.
Overall, Annabelle is doing FABULOUS. She has been struggling with a not-so-nice cold off and on lately, having it get so bad last week that I almost took her to the ER last Tuesday. She ran a 102 temp, was breathing super hard, and not keeping an acceptable O2 SAT off oxygen. She was also coughing so much that she was vomiting up her feeds a few times a day. We got through it with Tylenol for her fever and O2 for her oxygen issues, and got a little better until Saturday morning, when she woke up super junky and lethargic and literally snuggled with me for 2 hours after waking up (which is NOT normal.) We finally took her to the pediatrician, but of course, by then, she was running around the office and babbling up a storm and NOT looking sick at all. Go figure. But the doctor definitely heard crackles in her lungs (the week before her Pulmonologist said it hadn't gotten to her lungs yet, was still just drainage in her throat) so we went on a 2nd round of antibiotics, a stronger kind this time.
It's definitely helped, but she still has a decent cough, but it sounds like it's more back up in her throat again instead of her lungs, so Mommy is pleased about that. Hoping by the time we're done with the antibiotics, that the junk GOES AWAY!
Other than dealing with cold gunk, we've been plugging right away. She babbles more every day, which makes Momma SO SO SO happy. Sometimes we wonder if she isn't trying to say words that we just don't "get" but regardless, that she's being more verbal is a REALLY good sign.
She's still not eating anything, but she's discovered a LOVE for goldfish crackers and LOVES to chew them up until they are super soggy then spit them back out on her shirt or the table.
We're also working on trying to get Annabelle to color, but so far she has pledged her unwavering hatred for all things coloring. Still, we press on, trying to wow her with color when she's more interested with gnawing on the crayon.
That's it for your princess update this week!
OH OH OH OH! Can't forget that Annabelle got to see her BFF on Wednesday! They were up at Vandy for multiple appointments so we stopped in to see them before feeding therapy! FUN FUN FUN!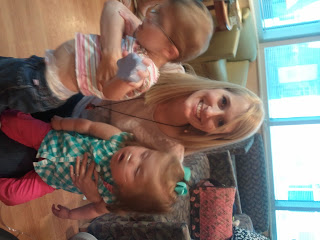 She wasn't quite thrilled to sit on Miss Melissa's lap, but she enjoyed showing off her massive walking/exploring skills!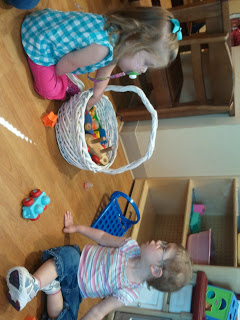 BFF's!
And here is a fun video from one of Karalynn's softball games! Yeah, Annabelle officially can RUN now! 🙂