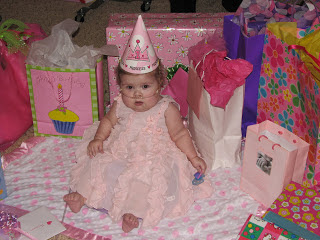 Happy 1st Birthday Annabelle!!! July 2011
Tonight as I type, I listen to Annabelle in the other room. She's sleeping, or at least trying to. I hear the hum of her oxygen concentrator running and the occasional dreaded beep of her pulxeox machine. I hear her sweet lungs cough with all the force they can muster and the occasional moan or cry out.
My brain KNOWS not to worry. It's a cold. All kids get colds. This is normal. This happens.
But… my heart automatically goes there.
What if…

What if her weakened lungs can't get that junk out like normal kids.
What if her weakened immune system can't fight off this crazy cold.
What if she's congested because her heart is failing.
What if this is the start of the dreaded rejection word that all transplant parents fear.
What if I fall asleep and her alarms beep and I don't hear them.
What if I'm overlooking something, some sign that should tell me to rush to the hospital for help.
What if….
By nature, I'm not a huge, huge worrier. I'm the last Momma to take my kids to the doctor, because I always assume it's just a cold or a virus… and I'm usually right.
But my Annabelle brings out the worrier in me.
Our heart kiddos are unique. Colds are SCARY. Many symptoms of a cold (such as lethargy and congestion and fever) are also symptoms of heart failure. And many of our kiddos have spent a pretty extreme amount of time on a ventilator when they are infants, so they have compromised lungs in many cases. And while being sick wears out a healthy-heart kiddo… our children with hearts that have been patched to work are brought down much easier and faster by viruses. They just can't handle them as well because their body is working so hard on a normal basis, especially those living with half a heart like Annabelle was.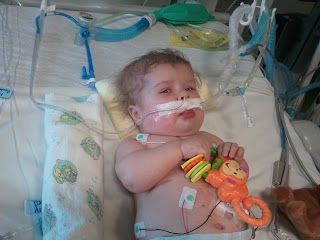 Two days after her first birthday….
Annabelle almost stopped breathing at home,
needed CPR in the ambulance,
and was lifeflighted to Vandy Children's.
Yes, this is why us Mommas worry.
So… it's morning now, and I'm finishing this blog.
Annabelle woke up smiling and so excited to see me. Of course, this was after being up past midnight coughing… and waking up screaming at 4 am, making me need to give her more Tylenol to calm her.
My worry has lessened. The what-ifs are fading again.
Yet…
They are still there. In the back of my mind. Trying to haunt me.
As a heart-momma who loves and trust Jesus, I know the only thing to do to get through it, to cope with the what-ifs, is to bundle them all up and fall at the feet of Jesus and drop them right there.


I trust Jesus with my worries and fears.
People many times tell me that I shouldn't worry. That I should trust God and be totally at peace.
To that I say: HA HA HA HA yeah right.
Trusting Jesus with our worries is much different than not having them in the first place.
We all have them. It's human and honestly, if you are a parent and don't ever worry about your kids, I'd be concerned about you.
It's what we do with those worries that is the key.
So this morning, my watchful eye is trained on my sweet girl, making sure there is no sign that I need to call a doctor or take her in somewhere. Yet I'm trusting Jesus to give me the instincts I need to take the best care of her that I possibly can.
Your prayers that she continues to get better and stops scaring the spit out of her momma is appreciated.