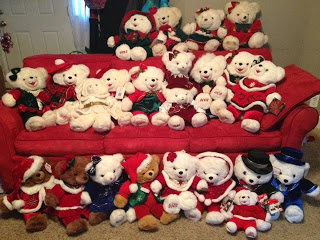 2013 Annual Bear Family Portrait
It's time for my annual BEAR FAMILY PICTURE post.
When I was 12, my mom got me my FIRST Snowflake Christmas bear. I'd always drooled over how PRETTY they were in the store, so to have my own ended up being my FAVORITE present that year. (I know my mom was like, SCORE, $10 fav present,YES!)
Each year thereafter, I got a Christmas bear for Christmas. They were well loved bears, displayed all year round in my room until I was old enough for it not to be quite as cool. One year (1994) it was even next to me during a stomach bug and, uh, let's just say, it bore the weight of the contents of my stomach. We washed, but its white fur is still a nice dingy color to this day. I view it as a symbol of the bear's bravery and steadfast dedictation to making me feel better.
I should note, I am missing one year. 1996, I believe. My mom thought I'd get tired of getting the same kind of bear every year, so she went for something a little different. She thought it was a bear. But when I opened it, I was a little dumbfounded that my mother had purchased a stuffed mouse instead. I was very thankful for it, don't get me wrong. But I still tease her about it to this day. I'm not even sure where that stuffed mouse went….
But I have all my bears.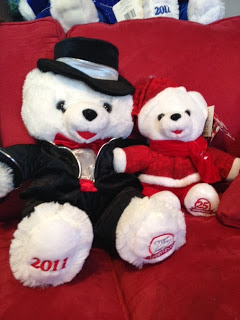 Our exception to the 1-bear-a-year…
in 2011, he got a mini-bear to
commemorate Annabelle's 1st Christmas
HOME
When I got married my husband carried on the tradition. For a few years, he was the overeager bridegroom and purchased 2-3 bears to have various genders/special editions. I had to lovingly sit him down and inform him that, while the thought was sweet, one bear was enough per year. Otherwise our house would be overflowing with bears in no time.
But still, 20 years later, while I no longer sleep with them or puke all over them, we do set them out each year around the living room. They are GREAT with kids, because they provide a lot of "yes" touches that kiddos are allowed to play with. These are no pampered bears. They get thrown around and stepped on and loved on by children. The BEST thing for Christmas bears, because you KNOW they love it!
And yes, my husband is well aware that I expect a $10 Snowflake Christmas bear from Wal-Mart underneath the tree this year.
What about you? Do you have any special Christmas traditions/collections?