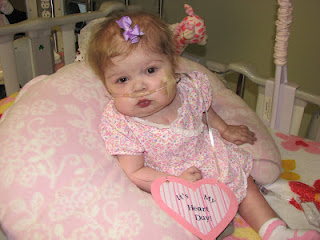 April 9th, 2011…. It's a day forever etched in my memory.
I'd gone to bed on April 8th a broken, battered woman. Not physically, but my heart was so worn and weary that I might as well have been.
Laying in a twin bed at the Ronald McDonald House, I'd laid there, exhausted and hopeless, my husband beside me on his own twin bed.
It is the one time in my life that I can say, I almost understood to a very small degree what Jesus must have felt when he said on the cross, "My God, why have you forsaken me?"
For over eight long months, we'd fought for my daughter's life. I'd seen her at her worst… on ECMO with her chest open, her beating heart visible. I'd seen her first smile, even though the lips she curled where a strange shade of blue. I'd watched that sweet girl struggle for each breath, wishing with all my might that I could take over, that I could breath for her and do the work myself. I'd have gladly done it had God allowed.
But He hadn't. He hadn't let her to come home either, as we'd prayed for since her birth. Every time we had a ray of hope, it was be quickly dashed within hours or days.
Regardless of all that, I'd clung to Jesus. To His promise that He hadn't left us or forsaken us. To the knowledge that He was supreme and in power, and that through our circumstances, HE would have the ultimate glory.
Laying in bed that night, none of that mattered. My heart had reached the end of what it could take. My hope felt like a fleeting memory. I just wanted to cry out, "God, we have served you and given you glory. Why, oh why have you forsaken our family? What did I do wrong??"
I honestly had no strength to go on. I told God I was done. I couldn't do it anymore. I had no clue what to do in the morning. No idea how I was going to get out of bed. How I was going to be the mom he'd called me to be, to any of my 4 kids. How I'd have the strength to be the helpmate my husband needed.
I went to sleep that night a beaten woman.
At three a.m. the phone rang.
My husband and I both sat up in bed and looked at each other.
And this tiny ray of hope touched my heart.
Please understand, I had no idea what that phone call would hold. It could have been our prayers answered or our worst fears come true, that she'd finally been too tired to keep on fighting.
But before I even answered the phone, I knew. My heart knew. God had taken a crumbled mother and was gathering her into his arms. He was caressing my heart back into health, whispering to my soul that all would be okay. That he had me.
That phone call?
It was Annabelle's cardiologist. They had a heart match, and it was PERFECT for her.
There could still be things that went wrong. It could still fall through.
But it didn't. At 4pm, she was taken in to the OR. At around 8pm, her sick heart that had fought a valiant fight was removed and laid to rest, and the heart of a sweet two-year-old was put into her chest, allowing it to continue it's life-giving mission.
I've spoken about this many times, but words honestly aren't enough to convey the bittersweet miracle this is and will always be. A sweet child lost their life in tragedy, yet their heart was able to live on.
It is not lost on me that the day God allowed our prayers to be answered was the same day that another family was completely devastated.
All I know is this: The miracle of Annabelle's life does not involve the death of someones child. That sweet little one would have died regardless of Annabelle's condition.
The miracle is that God can take tragedy and allow life to come of it. That God has given wisdom to doctors to figure out the nuances of transplant. That God allowed that family to recognize the gift they could give someone else, even in the midst of the horror they faced.
So today, we celebrate. Celebrate the gift of LIFE. Celebrate that the heart of a sweet life taken too soon has been allowed to continue beating. Celebrate Annabelle's heart that is now at rest, no longer having to bear the load of giving life that it was too weak to give. Celebrating an unnamed family who will forever be in my thoughts and prayers.
Three years…. Wow.