We are officially onto surgery #5.
#1 was her Norwood at 6 days old (7/26/10)
#2 was her Would-have-been-Glenn-turned-changeup-in-shunt at 3 months old (10/22/10)
#3 was her Nissen/G-tube at 4 months old (11/29/10)
#4 was her Heart Transplant at 8 1/2 months old (4/9/11)
#5 will be her Diaphragm placation tomorrow… well, it is tomorrow, however we are all keeping in mind hospital time so if they don't get time, it may be pushed to Friday. We are prepping for tomorrow though, time TBA as they are "squeezing" her inbetween other surgeries.
This does not count her 2 heart cath procedures which are like surgeries themselves nor does it count her multiple PICC line placements or MRI which also required anesthesia and a breathing tube.
I'm really okay with this surgery. I felt it was needed last week, but we just had to give her time to "prove" she would fail. Yes, I hate the thought of another surgery. But if that is what is needed, bring it on. I want to get this FIXED and get Annabelle HOME.
And since we had to go back to the PICU today because of increased oxygen need and work of breathing (not to mention a fever)… yeah, she proved that she failed.
*sigh* I am so utterly tired of this all. I am still a little sick, but better enough that I'm back at the hospital, sitting beside my sweet, sleeping Annabelle (NOT holding her), wearing a mask when I come close, and washing my hands every five seconds. I loved my time home with my Karalynn, Lacy and Gabby. I needed it much more than I realized, as did they! But it was time to be Annabelle's mom for a little bit again, so here I am. *heavy sigh*
Your continued prayers for our family are so very appreciated, for Annabelle, for my other kiddos dealing with their parents being gone so much, for my mother-in-law helping us out with them, for our finances, and for our sanity. It has been a really long nine-and-a -alf months, and our collective strength in all areas is dwindling a little everyday. I KNOW God is our strength, but I'm reminded of Moses holding up his staff while God parted the Red Sea. He couldn't do it himself, he needed his friends to help him hold it up. Thank you, thank you, for standing with us and helping to hold up our arms while God does his work on us and on Annabelle. I'd fall in a big heap of blah without you all!
FUN thing: I went to the library with Gabby today and got her a library card. OH MY GOODNESS! You should have seen her face! She had the HUGEST smile, grinning ear to ear, when I handed her that card. And when she checked out her books and movies… holy cow. My heart did flip-flops seeing her so excited about something so simple! I like being my kids Mom, and doing these simple little things to give them pleasure. I really really do!!!
**I forgot something!**
Another blessing: I got to the hospital today and had a headache. Not just a little one, but a whopping one that made me want to take a baseball bat to my own head. Not pleasant. I took some pills and little help. BUT… my Mom friend txted me and told me the ronald mcdonald house was having a lady there giving free 15 minute massages. I went over, got the last time slot of the day, and mentioned that I had a horrible headache. She spent an extra 10 minutes on my poor aching neck/head and my headache, while not gone, is tremendously improved! YEAH for wonderful people volunteering their services to us stressed out parents in need… (A Moment's Peace in Franklin) and YEAH for massages.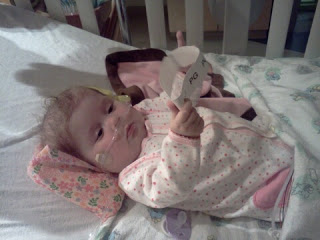 Playing with Daddy's wristband. I think she is examining it and deciding how best to eat it. "They won't give me food in my mouth… so paper might just have to happen!"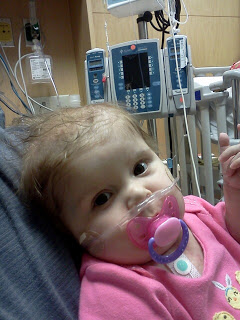 Snuggling with her Daddy last night. The pic cut off her pointing, but I think she's pointing to Scott saying, "This is my dad. Yup, he's pretty cool."