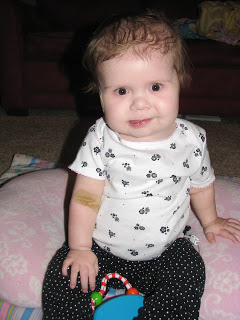 We're Home!!!!!
This was our SIXTH time coming home from a hospital admission. Added another 4 days to her "# of days in the hospital" to clock a total of 338 days now.
A doctor said about her CDIFF: "I don't think this is her problem, but given her past track record, we want to treat her for it so she doesn't have to be on isolation the next time she is hospitalized."
Mommy's thoughts: At first, I was a little irritated. Let's not "assume" Annabelle will be visiting the hospital again soon! I'm a "think positive" kinda Momma!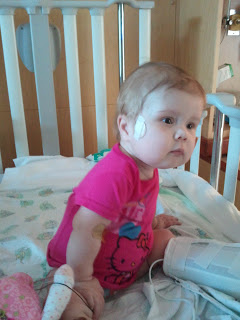 "Mom, you're in my way!"
But, I'm also realistic. Annabelle can't get over things like stomach bugs or colds or other issues like most of us do. At least for a while, she'll need a little help. I think I've been a little "anti-hospitalization" for these simple things, but the last four days have knocked it into my little brain that Annabelle is going to be different than my other kids, and that's okay. It doesn't mean I'm being a Momma who brings their kid to the ER with the sniffles. (If this is you, please, I mean no offense. I'm just usually the OPPOSITE of that kinda of Momma!)
It's probably why I waited so long to take her in, cajoled the doctors on the phone to letting us try pedialite a little longer. That won't happen again, I can promise you that! Annabelle does NOT need to suffer due to my stubbornness!
That said, oh my. It is SO SO SO SO SO SO SO nice to have my daughter home!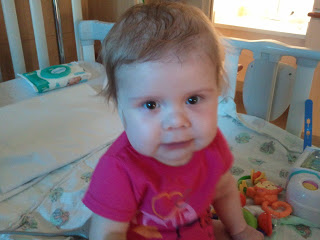 "There. I'll smile a little if you promise to put the camera down!"
She LOVED seeing her Daddy and sisters again. Since we'd all had a bug, they had stayed away from the hospital and hadn't seen her since Saturday morning. Annabelle was quickly laughing at her big sisters and playing with all her toys. She was give out though and fell asleep early.
And she handled her feeds okay here, so I'm SO thankful for that!
Speaking of feeds, she did NOT handle them okay this morning. Our goal was to go to full-strength of her "new" formula at the hospital this morning. However, she gagged like crazy and still had a HUGE runny stool with it. So, we switched her back to a lower strength of her OLD formula, and she's doing better (not perfect though.)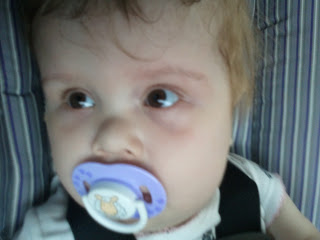 Where is Annabelle?? In her carseat! HOMEWARD BOUND!
But she's not technically getting enough calories to "grow" so we can't stay like we are for very long. The thought is it will take her belly a few days to get used to digesting food again, and we can work our way back up to full calories and then try again to switch to the other formula in a few weeks.
If that doesn't work, we'll try an elemental non-milk based formula. I am REALLY resisting that though, for a couple of reasons. Mostly, because it isn't "normal."
That might sound REALLY dumb, but my long-term goal is to obviously for her to eat normal, which means that she could drink normal milk. If we have to go "that" far from normal food, it's just much farther we will be from getting back to normal food.
Some might not agree with me in that logic. And if she doesn't handle more "normal" formula soon, I'll agree to go to the completely medical formula.
We're also going to try feeding her some thickened formula via her Gtube to see if she'll take that as well. This is trial and error though, so I'll be "playing" with this to see if it helps any. (Theory being, if it is thicker, it'll stick in her tummy and not reflux, thus causing her gagging.)
Oh, and we did NOT have the swallow study. In the end, we didn't want anything to potentially prevent us from going home today, so we are keeping it scheduled for Monday. BUT! The WONDERFUL speech therapist did get the time changed from 8:30 to 11:30 so we just have to go right before clinic instead of almost 4 hours early! This will help a BUNCH!
Thanks SO SO much for your prayers the last few days! We appreciated them SO very much!
YEAH FOR HOME!!!!
THANK YOU JESUS!!!!