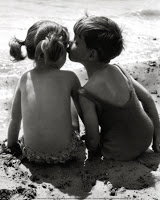 I'm SO SO SO very excited to announce/remind everyone about the KISSING DAY BLOGFEST that is happening on Monday–in honor of MISTLETOE! (Thanks for Sherrinda and Katie for thinking up this wonderful idea!!)
Now, doesn't that just sound delightful? A whole day dedicated to kissing!
What does this mean, you ask? Well, if you are a blogger, to participate, post a kissing/almost kissing scene from a book you've written/are writing. If you don't feel comfortable doing that, post about a kissing scene from a movie/book that is your favorite! On Twitter, use hash tag #kissingdayblogfest to tell us about your blog or just to share your 'kissing' tweets.
Then… have fun reading everyone's "kissing" blogs!
So, I'm cheating a little and posting a "pre" kissing day blog… but not a kissing scene (I'll save that for Monday!) I thought I'd tell my own story about my VERY FIRST KISS.
Stop ewwing!!
This is a funny story, I promise!
Okay… so most of you know that I met my husband on the Internet. Technically, our first "kiss" was a MMMMmmmmm over the internet. Stop laughing at me now, please.
Anyway, so we "met" online in June… and that December Scott flew from the almost balmy North Carolina to the ridiculously frigid Northern Minnesota to "meet" me in person.
This, obviously, was a fear inducing event. OH MY GOSH, what if he hates me? Thinks I'm ugly? What if we end up not liking each other but we still have to spend Christmas together?? (Yes, he flew up for a whole week at Christmas!)
But… smart people as we were, we "planned" our week before hand. It started with the meeting. See, we decided we need a signal in case we didn't like the first impression of each other, so we said that we'd hug each other if we were okay with the other. Can you think of ANYTHING so stupid? I mean… really. The moment he stepped off the plane, my stomach revolted and I almost puked. What if he didn't hug me??? He'd be there a WHOLE WEEK and I'd know that he thought I was hideously ugly. (He had seen a picture, but I wasn't totally sure if he had seen the right one since he'd liked it… I had self-esteem issues!)
Thankfully, he hugged me, and on the ride home, held my hand. (awwwww!)
We'd also decided that we needed to get to know each other first before we kissed. Yes, I am still in awe that we'd actually discussed all this. But anyway, we planned to "wait" to kiss until Christmas Eve, that is, if we still liked each other by then.
Suffice to say, come the day before Christmas Eve, Scott had kissed me on the hand, the forehead, the cheek, the nose, and maybe even the neck (DON'T TELL MY MOM!) but not the lips… because of course we were waiting for that.
We stayed up late that night (yes, he was at my house… he slept in my little brother's room!)
At 12:01 a.m. technically Christmas Eve, we looked at each other and smiled. Scott came close, but stopped.
I was crushed. Did he not want to kiss me? But then he said, "Be right back."
He went to the bathroom. What kinda guy goes to the bathroom right before kissing a girl? He came back about three minutes later… he'd brushed his teeth and squirted some breath freshener in his mouth. Leave it to my husband!
Then… my honey kissed me.
TOTALLY worth the wait.. and I'll spare you the details after that. Suffice to say… we've now been married over 10 years… and I STILL love kissing my honey!
Discussion: How old were you when you had your VERY FIRST KISS? I… btw… was 17… and was married a year later:-)
***WINNER***
Okay, I PROMISE this wasn't rigged… and I'm not succumbing to the "please pick me" beg in the comments section, but T.Anne won Christmas Peril by virtue of my husband picking a # 1-14. So, congrats! T.Anne, e-mail me your snail mail address at krista @ kristaphillips . com.