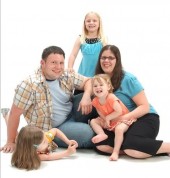 My silly family pre-Annabelle!
I'm working on Q&A's for different online interviews for blogs and things in preparation for my book launch, and one of the questions asked about how I got started blogging and if it was for an eye to publish books.
To be honest, I couldn't remember, so I went and looked at my first ever blog post.
I was super creative back then. I titled it "My first post."
HA HA HA HA!
Facebook was new, and I was not a fan. What in the world were walls and why were people asking me to write on them?? MySpace, IMHO, was much cooler. Well, that was my opinion then. Now I don't even have a way to get INTO my MySpace account because I don't know my password and the email address I had. I even had to do a search to find my page. (www.myspace.com/krista_jean just for pure fun reference!)
Then I looked at my 2nd blog post, which was almost just as funny. I totally had lost my blog. I'd also had it be a different name back then. Don't even remember what now.
I thought long and hard about my answer. Why DID I start blogging… besides just to be silly?
The answer was right there in my first post, and really, should be my answer to everything I do.
I wanted to glorify Jesus in my writing. Even on a blog. At the time, I would have been happy if five people read in my blog total.
But God's brought a few more people than five…
And I'm thankful for EVERY one of you that read my ramblings and Annabelle updates.
Discussion: Has God ever used something that you've done to do something you totally didn't expect???