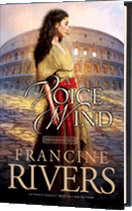 I know, I know. The subject is totally grammatically incorrect.
But it's true.
In the last few years that I've been writing, I've read tons of blog posts about rejection. They talk about "getting use to it, it only gets worse when you're published," "It's just one step closer to publication," "Most all famous writer's were rejected multiple times."
These things are SO true and reminders that I needed at the time. But I'm going a little different route today.
I've been rereading Francine River's A Voice in the Wind, and finished last night. Can I say WOW? If you've never read it, regardless of your choice of religion/usual taste in fiction, I'd highly recommend. It's life impacting. So over my next couple of Monday/Wednesday posts, I'm going to focus on a few things God reminded me about life/writing through reading it.
So as I read the book, it hit me how much we complain about the "rejection" of our books. How dare someone not like our brilliance? We've worked so hard, sweat, taken time to pour our souls into our books, and some editor would have the audacity to reject us? Okay, so maybe we don't say that. We demurely say, "This must not have been the right publisher." But inwardly it stings. It pours salt on an open wound that is our pride.
But can I just say? How arrogant, prideful and selfish of us. We have the freedom to write fiction of our choosing. We have the freedom to worship and serve God through our writing. We aren't whipped and beaten and used as human torches for the delight of Pagan worshipers, or used as food for lions at the enjoyment and grotesque delight of thousands of people looking on, cheering for the beasts.
So I ask you this today. Who do you write for? If God called so many, many early Christians to serve him, be obedient to him, and still allowed them, in his loving-kindness, to be murdered in so awful a way, wouldn't He call some of us to toil over our books, to put our heart into writing something that would please him, and then say, "Good, now I have something else for you." or "Good, but I'm not ready for you to be published yet."
We can't know what God's ultimate plan is. He only gives us footsteps. I pray that we all follow God's footsteps and lean on him, trusting him no matter what comes. Rejection isn't the end. It's a step in God's plan, and He knows. He knows everything. Trusting in him through rejection won't necessarily bring us a book contract, but it will bring us closer to the Savior who gave his life for us. Because God refines through fire. He burns off the chaff until only the beauty within remains.
Tell me, what would you rather have? A book contract… or a closer relationship to Jesus? For you non-writers, this applies to every area of life where you fear/face failure. No job right now? God is bigger and more powerful than any job we might need. Fed up with your job? God has placed you there for a purpose for such a time as this. Serve them with Love.
But above all, trust God, and (pointing the finger at myself too) stop belly-aching.
Discussion:
Would love your thoughts on rejection, oh, and if you've read the book, your thoughts on it as well. I'm reading book 2 now… if you don't have it handy when you finish the first one, better make sure you finish it at a time when you can run to the store and buy the other immediately. Trust me!